The Tunnel : Sabotage (TV series)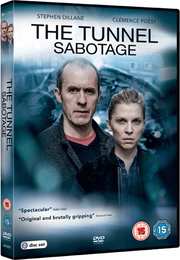 Certificate: 15
Running Time:
Retail Price:
Release Date:
Content Type: TV Series
Synopsis:
This tense, high octane thriller sees the investigative duo from opposite sides of the Channel – pragmatic, meticulous and newly promoted Commander Elise Wasserman and laconic but brilliant DCI Karl Roebuck – reunited to investigate the case of a French couple abducted from the Eurotunnel, leaving behind their traumatised young daughter.They soon have far bigger questions to answer.

Sinister and complicated forces are at play and in a terrifying game of brinksmanship, Karl and Elise will have to risk everything in the pursuit of true justice.

It is the beginning of a lethal mystery that will change both Karl and Elise's lives – and see many more lost – before they can unravel the dangerous and corrupted forces at play...
Special Features: