Eva Green stars in drama Cracks out in March on DVD and Blu-ray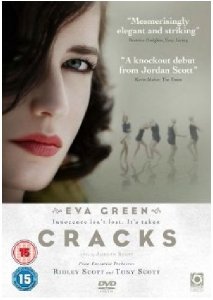 CRACKS
"Unsettlingly sexy boarding school noir -

Picnic at Hanging Rock

meets

The Prime of Miss Jean Brodie"
Evening Standard
"A stylish, atmospheric psychological drama"
New!
"A knockout debut"
The Times
"Sultry and compelling - in a class of it's own"
BBC 5 Live
Starring Eva Green, Juno Temple
Imogen Poots & Maria Valverde
Adapted from the novel by Sheila Kohler
Directed by Jordan Scott
Produced by Ridley & Tony Scott
Out To Own On DVD, Blu-ray & EST
29th March 2010
Cracks
is the sensuous and erotically charged debut from filmmaker Jordan Scott, a story of innocence not lost, but taken. In a remote and austere all girl's boarding school in rural Ireland, an elite clique of girls are the revered members of the diving team. Their undisputed queen is the captivating and avant-garde teacher, Miss G (Eva Green,
Casino Royale, The Dreamers
) - and the focus for the girls' adolescent infatuations, especially that of Di Radfield (Juno Temple,
Atonement, St Trinians
), team captain and Miss G's 'favourite'. Thriving on the attention, Miss G considers it her duty to teach her charges the ways of the world, regaling them with tales of her bohemian adventures. But cracks soon emerge in their idyllic enclave with the arrival of a mysterious Spanish pupil, Fiamma (Maria Valverde,
King of The Hill
). Exotic and appealing, she doesn't look for approval to her peers and, despite Di's machinations, becomes the increasing focus of Miss G's attentions. Seeing through Miss G's worldly façade, Fiamma's rebuttal of her friendship sets in motion a mesmerising tale of infatuation, jealousy and betrayal, as the girls discover terrible things can happen when fantasy collides with reality. Featuring stunning cinematography from Academy Award nominated John Mathieson (
Gladiator, Kingdom of Heaven
) which perfectly encapsulates the fairytale qualities at the film's heart,
Cracks
is a worthy entry in the canon of classics of 'innocence lost' alongside
Picnic at Hanging Rock
and
Heavenly Creatures.
Extras:
Interview with Jordan Scott
/
Interview with Maria Valverde & Juno Temple / interview with Eva Green / trailer
Tech specs: Cert: 15 / Feature Running Time: 100 mins approx / Region 2
Feature Aspect Ratio: 1.85:1 / Colour PAL / Audio: Dolby Digital 2.0 & 5.1 / English Language / Cat No: OPTD1728 / RRP: £17.99