Dr Quinn Medicine Woman TV Movie out in March on DVD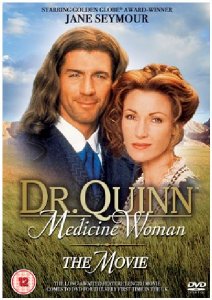 STARRING GOLDEN GLOBE AWARD-WINNER
JANE SEYMOUR
AS ONE OF THE MOST TREASURED CHARACTERS IN TELEVISION HISTORY 
Ten years after the original broadcast, the long awaited feature length movie comes to DVD for the very first time in the UK! 
Following the highly successful, multi-award winning six series of Dr Quinn Medicine Woman, fans will be thrilled to catch up with Michaela, Sully and the townsfolk of Colorado Springs in this fantastic made for television movie set in 1877. 
As she celebrates her birthday at a surprise party organised by Sully, Dr Michaela Quinn is unaware of the grave danger that her young daughter Katie is in. Following Sully's strong opposition to a proposal to mine for copper in the Springs, Katie has been kidnapped. The search for their beloved daughter takes Mike, Sully and their friends on a dramatic and dangerous expedition to Mexico. Will they reach Katie in time and will they all return to Colorado Springs unscathed? 
"I was obsessed with Dr. Quinn Medicine Woman… get them to do it again!"
Paul O'Grady, The Paul O'Grady Show
OUT TO BUY ON DVD - 8 MARCH 2010
PAR 61454 | RRP £15.99