Stomp The Yard: Homecoming hits DVD this November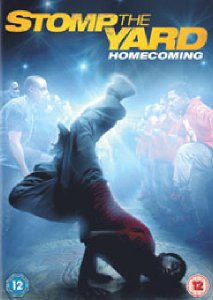 Steppin' onto
DVD
STOMP THE YARD:
HOMECOMING
Featuring Collins Pennie, Terrence J, Stephen "tWitch" Boss,
Kiely Williams, Pooch Hall, Tika Sumpter,
and a Featured Appearance by Columbus Short
Bonus Materials Include Deleted Scenes, a Behind-the-Scenes Featurette and Filmmaker Commentary
London
, UK
. 13/09/10
- The audience returns to the yard of Truth University on November 29th for the all new, explosive, high energy drama
Stomp The Yard: Homecoming
, courtesy of Sony Pictures Home Entertainment.
The sequel to the U.S. box office hit follows Chance Harris (Collins Pennie, Fame) as he looks to find a balance between his school, work, relationships and the opportunity to perform at the nationally televised step competition during homecoming weekend.
The up-and-coming energetic cast also includes Terrence J (BET's #1 Rated "106 & Park"), Stephen "tWitch" Boss (TV's "So You Think You Can Dance"), Pooch Hall (
The Game
), Kiely Williams (
The Cheetah Girls
), Keith David (
Death at a Funeral
,
The Princess and the Frog
), Tika Sumpter (TV's "One Life to Live") and a featured appearance by Columbus Short (
Stomp the Yard
,
Death at a Funeral
).
The bonus features include deleted scenes, commentary and the featurette "Stomp on the Yard: Choreography," which takes viewers behind-the-scenes of this high-energy dance romp. Filled with all new phenomenal, step- routines,
Stomp the Yard: Homecoming
will be available on DVD for RRP £12.99.
Synopsis:
In the countdown to a national step-off, rivalries at Truth University run red hot. The Theta Nus are counting on new pledge Chance Harris (Collins Pennie) to lead the team to victory. But he's too caught up in his own problems to focus. At odds with his father, caught up in romantic troubles and targeted by a street gang for an unpaid debt, Chance must decide what is truly important and make the choices that will shape his life.
Stomp the Yard: Homecoming
unites a powerful cast featuring Terrence J and Pooch Hall with a soundtrack packed with pulse-pounding tracks.
Directed by Rob Hardy (
The Gospel
),
Stomp the Yard: Homecoming
is from a story by Albert Leon and a screenplay by Albert Leon and Meena Payne. Columbus Short served as executive producer, with William Packer producing.
DVD Bonus Features Include:
Deleted Scenes
Featurette: "Stomp on the Yard: Choreography"
Filmmaker and Cast Commentary
Stomp the Yard: Homecoming
has a running time of 84 minutes and is rated 12.
PRODUCT INFORMATION
TITLE
Stomp The Yard: Homecoming
Release Date
29 November, 2010
Format
Retail DVD
RRP
DVD: £12.99
Certificate
12
Genre
Drama
Running Time
84 minutes (approx)