Yaron Zilberman's music drama A Late Quartet comes to DVD and Blu-ray in July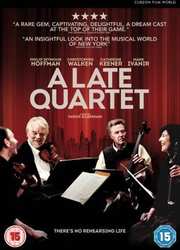 Feels like a while since we mentioned a new title from one of our favourite distributors,
Artificial Eye
, so it's nice to bring you one now. Out on both DVD and Blu-ray this coming 29th July, is drama
A Late Quartet
.
Starring Christopher Walken, Philip Seymour Hoffman, Catherine Keener and Imogen Poots, this Yaron Zilberman film is a sensitive depiction of the New York music scene.
Extras will include a trailer, whilst the recommended retail price will be £15.99 for the SD version and £19.99 for the HD release. The runtime is 105 minutes, if that sort of thing influences your buying decision.
Synopsis and trailer follow...
The Fugue Quartet has performed together for over 25 years, attracting worldwide acclaim. But when one member admits that time may have finally caught up with him the group finds itself faced with an uncertain future of shifting dynamics and strained relationships, echoed by the complexities of their swansong piece, Beethoven's notoriously difficult String Quartet No. 14.