Heaven's Gate Restored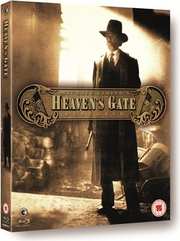 Certificate: 15
Running Time: 216 Mins
Retail Price: £19.99
Release Date: 25/11/2013
Content Type: Movie
Synopsis:
Michael Cimino writes and directs this large-scale Western starring Kris Kristofferson and Christopher Walken. Set in the late 1800s in Johnson County, Wyoming, the film follows the conflict between American cattlemen and European immigrants.

Harvard graduate James Averill (Kristofferson) is appointed marshal to keep the peace, but clashes with his friend, gunfighter Nate Champion (Walken), who is working for land baron Frank Canton (Sam Waterston). Champion, like Averill, is vying for the attentions of Ella Watson (Isabelle Huppert), the madam of the local brothel, which only adds to the rivalry between the two men. Soon the situation in Johnson County worsens and war breaks out with disastrous consequences. The cast also includes Joseph Cotten, Jeff Bridges, John Hurt and Mickey Rourke.

A film reviled on first release, now restored to its original form many people are now hailing this a masterpiece and now you are able to experience that for yourself.
Special Features:
New Interview with Jeff Bridges
New Interview with cinematographer Vilmos Zsigmond
Extracts from 'Final Cut: The Making And Unmaking Of Heaven's Gate' - Michael Epstein's acclaimed documentary based on Steven's Bach book.

Related Websites:
http://www.secondsightfilms.co.uk/coming_soon.php?a=234

Directed By:
Michael Cimino

Written By:
Michael Cimino

Starring:
Kris Kristofferson
Jeff Bridges
Isabelle Huppert
John Hurt
Christopher Walken