Stargate the Ultimate Edition hits Blu-ray in March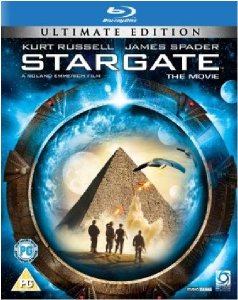 Grossing nearly $200 million worldwide on its first release in 1994,
Stargate
has become a cult phenomenon, spawning a military science fiction franchise that has expanded from film and television to books, video games and comic books.  Now, with its
29th March 2010 Blu-ray
release, this extraordinary film can be viewed in all its stunning glory and with a mouth-watering line-up of extras. 
Stargate
is the film that launched the career of Roland Emmerich, the director of such epic widescreen sci-fi movies as
2012, The Day After Tomorrow
and
Independence Day
.  The film's sense of scale overwhelms to stunning effect, ably abetted by Karl Walter Lindenlaub's beautiful soft focus photography and the co-writing skills of Dean Devlin (along with those of Emmerich).  The special effects are simply stunning - the liquid pool of energy as people enter the stargate; the giant pyramid ship descending during a storm; the bantha-like animals; the anubis-headed guards and with their morphing suits of armour; the fighter ships and the colossal nuclear explosions in the void. 
With a star line-up that features
Kurt Russell
as Colonel Jonathan "Jack" O'Neil,
James Spader
as Dr Daniel Jackson,
Jaye Davidson
as Ra,
Viceca Lindfors
as Catherine and A
lexis Cruz
as Skaara, science fiction aficionados can look forward to a glorious world of Blu-ray wonder with this latest
Stargate
release. 
Synopsis
When a mysterious artefact is unearthed at Giza, tough-minded military man Colonel Jack O'Neill (Kurt Russell) clashes with archaeologist Daniel Jackson (James Spader) over the origin and potential of the object.  When Jackson identifies the object as a portal to another world, O'Neill leads him and a team through the "Stargate".  They are transported millions of light years from Earth where they are stranded on a strange and alien planet.  When the enigmatic ruler of this extraordinary world, Ra (Jaye Davidson), discovers that the doorway to Earth can be reopened, he devises a deadly plot. Racing against time, O'Neill and Jackson must overcome Ra if they are to save Earth and find a way back home.