80s TV series Street Hawk hits DVD this March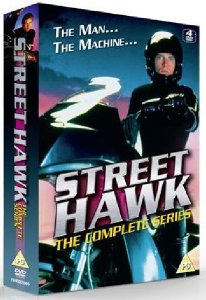 Fabulous Films are
proud to announce the first time ever on
DVD release of
Street Hawk: 
The Complete
Series
Available to own
from the
  22nd March 2010

Enjoy for the first time on DVD the complete series of this much loved 1980's motorcycle contender to Knight Rider
Street Hawk series had special guest appearances by George Clooney (Oceans Eleven. The Fantastic Mr Fox) & Christopher Lloyd (TV Taxi, Back to the Future, Dream Team)
SYNOPSIS
Jesse Mach, an ex-motorcycle cop injured in the line of duty is now a police trouble shooter. He has been recruited by a top secret government mission to ride Street Hawk, an all terrain attack motorcycle designed to fight urban crime and capable of incredible speeds of up to 300 mph and immense firepower. Only one man, Norman Tuttle knows Jess Mach's true identity- The Man, The Machine, Street Hawk. 
This series has never been released anywhere in the entire world on DVD.  Only the pilot episode was released on VHS. This has been one of the most sought after DVD releases ever which is finally available now that music clearance issues have been resolved. This series was broadcast in 1985 and has always been associated with Knight Rider, Airwolf and Blue Thunder. It was aired on ITV and ran for one season.  The series also features the groundbreaking score by the legendary electronic supergroup 'Tangerine Dream'.
DVD CONTENTS                                                   
Original Pilot Episode 73mins                                   
All 12 Original Episodes x 43mins                            
Unbroadcasted Pilot featuring different Street Hawk firepower (73mins)
Street Hawk, The Making of a Legend- A brand new documentary featuring Rex Smith, Joe Regalbuto and Jeannie Wilson (41mins)                                  
Stills Galleries                                    
Episode Synopsis       
8 - Page Collectors Booklet
Stunning Motion Menus
DVD SPECIFICATIONS
Running time: 690mins
RRP Price: £39.99     
Barcode: 5030697017093
Catalogue No: FHED2669
Certificate: PG
Discs : 4
"Streek Hawk"
is distributed by Fabulous Films and is available from all good DVD stockists from 22nd March 2010.