Children's Scifi series Chocky coming back to DVD this March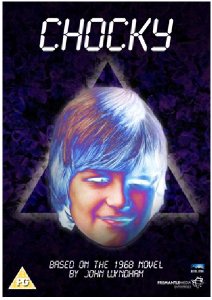 CHOCKY 
THE SCI-FI SHOW THAT THRILLED A GENERATION OF CHILDREN IN THE EIGHTIES! 
Starring
James Hazeldine
(London's Burning) &
Carol Drinkwater
(All Creatures Great And Small) 
Based on the 1968 novel by highly respected author
John Wyndham
(The Day Of The Triffids) 
Adapted for television by Doctor Who writer
Anthony Read
Matthew's parents are concerned. Surely he is too old to have an imaginary friend? But as Matthew becomes increasingly distressed, arguing and reasoning with the unseen companion, they soon learn that Chocky is far from imaginary. Chocky is an alien entity that has taken up residence inside Matthew's mind, using him as a source of information about life on earth whilst opening his eyes to an existence far removed from our own. Soon Matthew can do things he could never have done before… 
Plus Q&A with Andrew Ellams (Matthew) over 25 years on! 
RE-RELEASED ON DVD - 22 MARCH 2010
PAR 61467 | RRP £19.99