Johnny Got His Gun: Special Edition arrives in March on DVD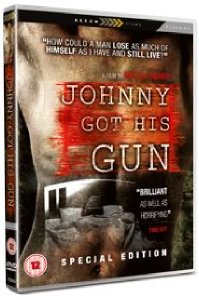 Arrow Films is proud to announce the brand new release of

Johnny Got His Gun
Special Edition
From controversial Writer/Director Dalton Trumbo ('Roman Holiday', Spartacus and Papillion)  'Johnny Got his Gun' was Trumbo's most celebrated work, and his only credit as a Director..
Blacklisted for his alleged Communist ties, Trumbo spent 10 months in prison for refusing to testify in front of the House Un-American Activities Committee
'...often sentimental, ... brilliant as well as horrifying'
Timeout
'Living proof of the horrors of war' '
Total Film
Joe is a WWI soldier wounded by a landmine on the last day of the conflict. He is left without any limbs, unable to see, smell or hear and is confined to a world created within his own mind of memories and dreams. Joe's fate appears to be sealed until one day he manages to communicate with his doctors. What follows is an examination and exposure into the futility and full horror of war. Joe struggles on with life only to act as a warning to others who may think any war justifies the type of suffering his existence represents.
Johnny Got His Gun is the Holy Grail of 70's Counterculture anti-war movies, and is the inspiration for the Metallica Grammy Award winning 'One' video making the film famous to the younger MTV generation. 
Included in this newly produced special edition DVD :
•
Metallica 'One' music video
. The inspiration to the mega hit by Rock sensation Metallica, the song and video are synonymous with the Band.
•
Dalton Trumbo: Rebel In Hollywood
This special documentary gives us an insight into the life and mind of this extremely unconventional Director.
• 
The original cinema trailer
from the theatrical release.
• 
A very rare nude scene
from the movie deleted from the original theatrical release.
• 
Included in the accompanying special edition booklet is an exclusive interview with Dalton Trumbo in which he speaks about his legacy as a film maker.
Available on DVD March 22nd 2010 
PRODUCT INFORMATION

Release Date:
22nd March 2010
Running Time:
106 mins
Cat No:
FCD424

Aspect Ratio:
16:9

RRP:
£15.99

Audio:
Stereo 2.0

Certificate:
12
Colour:
Colour / B&W