The Virgin and the Gypsy out in April on DVD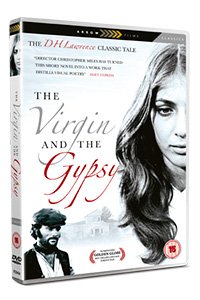 Arrow Films is proud to announce the release of

The Virgin and the Gypsy
Special Edition DVD
The Virgin and the Gypsy is the enthralling film adaptation from the novella by D.H. Lawrence.
Featuring brilliant performances from an all star cast including Honor Blackman, Joanna Schimkus, and Franco Nero , The Virgin and the Gypsy is the ultimate tale of a young girl's passion unleashed...
It is the story of two sisters, daughters of an Anglican vicar, who return from overseas to a drab, lifeless vicarage in the post-war East Midlands. Their new home is dominated by a blind and selfish grandmother, and Yvette and Lucille risk being suffocated by the life they now lead at the Vicarage.
Whilst on a trip with some friends, Yvette encounters a Gypsy and this meeting awakens a sexual curiosity in her she has not felt before. The Gypsy offers her an escape from the oppression she feels at home, but can she breakaway from her family's grasp?
'Excellent Performances'
The Times
'The best D H Lawrence film adaption ever!'
New York Times
'A work of poetry by Christopher Miles'

The Daily Express
Included in this Special Edition DVD:
•
An exclusive Evening
with
Honor Blackman
and the film's Director,
Christopher Miles
. In front of an invited audience they recount the making of 'The Virgin and The Gypsy', and how its success changed their lives.
Starring:
Joanna Shimkus
,
Franco Nero
and
Honor Blackman
Directed by:
Christopher Miles
Available on Special Edition DVD
April 19th 2010