80s horror The Stuff oozes onto Blu-ray and DVD this March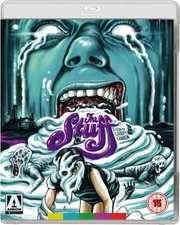 Ah memories, back in the 80s when people didn't buy movies because your only option was to rent them, once you'd rented all the blockbuster horror flicks all that was left on a Saturday night was to route through all the other ones and choose what you got based on the cover alone.
One of these movies was
The Stuff
, and
Arrow Films
are releasing it on a combo DVD and Blu-ray pack this coming 10th March, with a recommended retail price of £24.99.
Written and directed by Larry Cohen, this stars Michael Moriarty, Andrea Marcovicci and Garrett Morris, and is presented in a new high definition restoration of the film from a brand new 2K scan of the original camera negative, original stereo audio track, English SDH subtitles for the deaf and hard of hearing.
Extras include Can't Get Enough of The Stuff: Making Larry Cohen's Classic Creature Feature documentary featuring Larry, producer Paul Kurta, actress Andrea Marcovicci, mechanical makeup effects artist Steve Neill and Kim Newman, introduction and trailer commentary by Darren Bousman, trailer, reversible sleeve with original and newly commissioned artwork by Gary Pullin, plus the obligatory collector's booklet.
Synopsis and trailer, follow...
The Stuff is the new dessert taking supermarket shelves by storm. It's delicious, low in calories and, better still, doesn't stain the family carpet. What's not to like?! Well, for a start it has a life of its own, and we're not talking friendly live bacteria.
Young Jason seems to be the only one who doesn't love The Stuff, in fact he won't go anywhere near it, after having seen the pudding crawling around the fridge one night. What's more, everyone who eats The Stuff has started acting really weird.
Now, teaming up with wise-cracking industrial saboteur "Moe", Jason must put a stop to The Stuff and the organisation behind it or face a gooey, gloopy demise.