Wartime vintage comedy Joey Boy with classic cast out on DVD today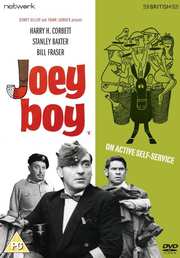 Some vintage comedy for you to kick the week off, out today on DVD courtesy of
Network Distributing
as part of The British Film collection is
Joey Boy
.
Directed by Frank Launder and starring Harry H. Corbett, Stanley Baxter and Bill Fraser, this 1965 feature comes in its original aspect ratio with a brand new transfer, image gallery and promotional material in PDF form.
The recommended retail price will be £9.99.
Synopsis follows...
This charts the wartime misadventures of a gang of London spivs who decide that a tour of duty with the Army is preferable to another stint at His Majesty's pleasure.
While posters urge austerity and vigilance in wartime Britain, 'Joey Boy' Thompson has never had it better. In a cellar beneath his East London fish shop, a gambling club thrives and austerity provides a nice black-market sideline, but the dolce vita crumbles when police arrive in a lightning raid, and offer Joey and his fellow reprobates a stark choice: sign up for active service, or face another stint inside.
Thus the lads find themselves heading off to Italy, determined to make the best of it.