Black Swan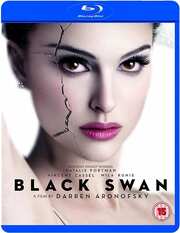 I just want to be perfect.
Certificate: 15
Running Time: 108 mins
Retail Price: £24.99
Release Date: 2011
Content Type: Movie
Synopsis:
Nina (Portman) is a ballerina in a New York City ballet company whose life, like all those in her profession, is completely consumed with dance. She lives with her obsessive former ballerina mother Erica (Hershey) who exerts a suffocating control over her. When artistic director Thomas Leroy (Cassel) decides to replace prima ballerina Beth MacIntyre (Ryder) for the opening production of their new season, Swan Lake, Nina is his first choice. But Nina has competition: a new dancer, Lily (Kunis), who impresses Leroy as well. Swan Lake requires a dancer who can play both the White Swan with innocence and grace, and the Black Swan, who represents guile and sensuality. Nina fits the White Swan role perfectly but Lily is the personification of the Black Swan. As the two young dancers expand their rivalry into a twisted friendship, Nina begins to get more in touch with her dark side--a recklessness that threatens to destroy her.
Special Features:
Metamorphosis: A Three-Part Series--A behind the scenes look at the filmmaking process from Darren Aronofsky's visionary directing, to the physically-demanding acting, to the stunning special effects.
Behind the Curtain--An inside look at the film's costume and production design.
Ten Years in the Making--Natalie Portman and Darren Aronofsky discuss their creative journey, from "preparing for the role" to "dancing with the camera.
Cast Profiles: Roles of a Lifetime--Presented by Fox Movie Channel, the stars reflect on their challenging and rewarding characters.

Video Tracks:
2.40:1 widescreen 1080p

Audio Tracks:
DTS-HD MA 5.1 Surround English
Dolby Digital 5.1 Surround English Audio Descriptive
Dolby Digital 5.1 Surround Spanish
Dolby Digital 5.1 Surround Portuguese
DTS 5.1 Surround German
DTS 5.1 Surround Italian
DTS 5.1 Surround Spanish

Subtitle Tracks:
English
Spanish
Portuguese
German
Italian
Finnish
Swedish
Norwegian
Chinese
Danish
Greek
Romanian
Turkish

Directed By:
Darren Aronofsky

Written By:
Mark Heyman
Andres Heinz
John J. McLaughlin
Andres Heinz

Starring:
Natalie Portman
Mila Kunis
Vincent Cassel
Barbara Hershey
Winona Ryder

Casting By:
Mary Vernieu

Music From:
Clint Mansell

Director of Photography:
Matthew Libatique

Editor:
Andrew Weisblum

Costume Designer:
Amy Westcott

Production Designer:
Thérèse DePrez

Producer:
Scott Franklin
Mike Medavoy
Arnold Messer
Brian Oliver

Executive Producer:
Peter Fruchtman
Ari Handel
Jennifer Roth
Rick Schwartz
Tyler Thompson
David Thwaites
Jon Avnet
Bradley J. Fischer

Distributor:
Twentieth Century Fox