Little Ashes hits the Cinema in May
LITTLE ASHES
Three rebels willing to take on the world
Two lovers risking it all
One story, untold until now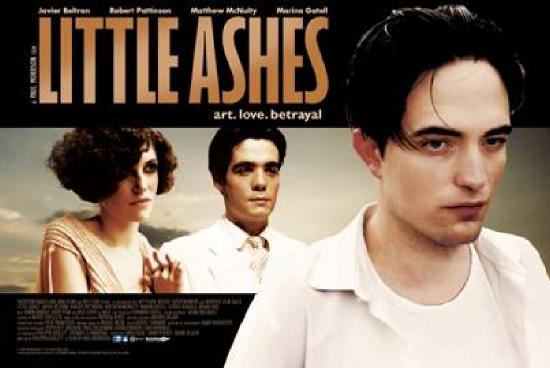 Dalí
·
Lorca
·
Buñuel
A powerful story of love, art and betrayal
from Oscar nominated director Paul Morrison (

Solomon and Gaenor

)
Starring:
Robert Pattinson (

Harry Potter

,

Twilight

)
Matthew McNulty (BAFTA Award winning

See No Evil: The Moors Murders

and

The Mark of Cain

)
Madrid 1922
.
A city wavering on the edge of change as traditional values are challenged by the dangerous new influences of Jazz, Freud and the avant-garde.
Salvador Dalí
(
Robert Pattinson
) arrives at university: 18 years old and determined to become a great artist. His bizarre blend of shyness and rampant exhibitionism attracts the attention of two of the university's social elite - Federico García
Lorca
(
Javier Beltrán
) and Luis
Buñuel
(
Matthew McNulty
).
Salvador is absorbed into their decadent group and for a time Salvador, Luis and Federico become a formidable trio, the most ultra-modern group in Madrid. However as time passes, Salvador feels an increasingly strong pull towards the charismatic Federico - who is himself oblivious of the attentions he is getting from his beautiful writer friend, Margarita (
Marina Gatell
). Finally, in the face of his friends' preoccupations - and Federico's growing renown as a poet - Luis sets off for Paris in search of his own artistic success.
Federico and Salvador spend the holiday in the seaside town of Cadaques. Both the idyllic surroundings and the warmth of the Dalí family sweep Federico off his feet. Salvador and he draw closer, sharing their deepest beliefs, inspirations and secrets, convinced that they have found a kind of friendship undreamt of by others. It is more than a meeting of the minds; it is a fusion of souls. And then one night, in the phosphorescent water, it becomes something else…
Paul Morrison, Matthew McNulty, Javier Beltran and Marina Gatell are all available for interview.
Please send interview requests through to at Organic Marketing.
Released in UK cinemas 8th May 2009
Running Time: 107 mins
Certificate: 15
Website:
www.littleashes-themovie.com