The Lost arrives in June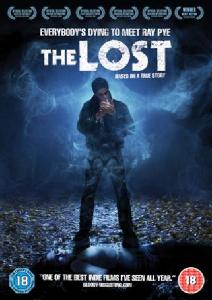 Lionsgate is the premier independent producer and distributor of motion pictures, television programming, home entertainment, family entertainment and video-on-demand content.  
THE LOST
"One of the best indie films I've seen all year."
 Mr. Disgusting BLOODY DISGUSTING
Artwork in progress
Based on the real life crimes of a teenage serial killer,
THE LOST
gives an unflinching look into the criminal mind.  With unsettling performances and shocking violence, this psychologically intense tale is available to own and rent on
DVD
from
8th June 2009
.
"The Lost succeeds as both a superior crime drama and a haunting cautionary tale."
Gary Goldstein, Los Angeles Times
This terrifying and haunting tale provides a unique and disturbing insight into 19-year-old Ray Pye, a black-clad, good-looking sociopath capable of a compliment or cold-blooded murder with the bat of an eye. This unforgettable horror is available to own and rent on DVD from 8th June. 
When camping in the woods one day, Ray stumbles upon two young women whom he heartlessly kills. His friends, Jen and Tim, witness the murders and help cover them up, becoming reluctant accomplices. Four years later, Ray has still not been arrrested but Detective Charlie Schilling and his ex-partner, Ed Anderson, are on the case. They
know
that Ray is the killer… but how can they prove it? 
Meanwhile, when new girl Katherine Wallace marches into town, Ray realises he has met his match.  Katherine is a bad girl with a taste for the darkside, and quickly she and Ray become an explosive couple whose deadly games lead towards an horrific and shocking climax… 
From the acclaimed novel by award-winning horror author Jack Ketchum, and based on the crimes of the real-life teenage serial killer Charles Schmid,
THE LOST
has some incredible performances from its young cast.  Starring
Marc Senter
, (upcoming
Cabin Fever 2
) as Ray Pye, and
Shay Astar
(
TV's Third Rock From The Sun
) as Jennifer Fitch,
THE LOST
gives a genuinely shocking look at a deranged young mind. On
DVD
from
8th June 2009
. 
DVD Technical Information
Release Date
                          8th June 2009
Copyright
                               © Lions Gate Home Entertainment UK Ltd. All Rights Reserved
RRP
                                         £15.99
Certificate                             
18
Running Time                        
115 minutes approx
Audio
                                      Dolby Digital 5.1 Surround
Special Features
                     Auditions
                                                Audio commentary by Jack Ketchum, author of the novel "The Lost" - moderated by Monica O'Rouke, novelist