Undead or Alive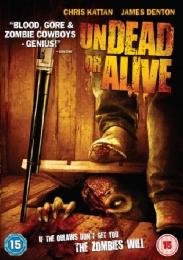 If the Outlaws Don't Get You, The Zombies Will
Certificate: 15
Running Time: 88
Retail Price: £12.99
Release Date: 13/04/2009
Content Type: Movie
Synopsis:
Elmer Winslow is a soldier on the run from the Union Army and local cowboy Luke Budd is nursing a broken heart. After a scuffle, the misfits find themselves locked up the local clink by the towns corrupt and evil Sheriff Claypool. When they manage to escape the lockup, rob the Sheriff and flee the town they have no idea that a plague of Zombies are sweeping through the country.


They are joined in the desert by the smart and beautiful Apache warrior, Sue, who is seeking revenge for her decimated people. They team up but their plans soon become complicated.they discover an Apache curse, put on the white man which has turned all the people of the surrounding areas into zombies!

Sue is their only chance of surviving this Zombie epidemic, and breaking the mysterious curse. Will romance between Luke and Sue blossom or will the undead permanently keep them apart?
Special Features:
- Audio Commentary
- From South Park to the Wild Wild West
- Geronimonsters! The Zombies that Walked The West

Video Tracks:
Anamorphic Widescreen 2.35:1

Audio Tracks:
Dolby Digital 5.1 Surround English

Subtitle Tracks:
English HoH

Directed By:
Glasgow Phillips

Written By:
Glasgow Phillips
Scott Pourroy

Starring:
Navi Rawat
James Denton
Chris Kattan
Brian Posehn
Leslie Jordan
Matt Besser
Jeff Chase
Chris Coppola
Christopher Allen Nelson
Chloe Russell

Casting By:
Ron Digman
Valorie Massalas

Soundtrack By:
Ivan Koutikov

Director of Photography:
Thomas L. Callaway

Editor:
Larry Madaras

Costume Designer:
Barcie Waite

Production Designer:
Mark Alan Duran

Producer:
Deborah Del Prete
David S. Greathouse
Gigi Pritzker

Distributor:
Lionsgate