Boston Strangler: The Untold Story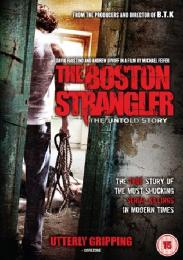 The True Story Of The Most Shocking Serial Killings In Modern Times
Certificate: 15
Running Time: 93
Retail Price: £12.99
Release Date: 27/04/2009
Content Type: TV Series
Synopsis:
It's Boston in the early 1960's, and the police are baffled by a series of sickening murders. Detective John Marsden believes that there is more than one killer at large, but his superiors disagree and are keen to quickly have someone arrested and the case closed.

Albert De Salvo is the sharp-witted, small-time criminal who finds himself a suspect in the strangler cases that are wreaking havoc in Boston. After an unrelated arrest, De Salvo becomes cellmates with the manipulative Frank Asarian, who knows a lot more about the murders than he reveals…

Asarian concocts a plan that will see the duo gain notoriety from the killings and guide them to the reward money promised by the police to anyone who can lead them to the killer. DeSalvo has never killed anyone, but as he expects a lengthy jail sentence anyway, what difference does it make if people think he is the strangler?

For years the police believed that they had convicted a guilty man in the infamous Boston Stranglings - but they were wrong...
Special Features:
- Audio Commentary by Mike Feifer, David Faustino and Andres Boulton

Video Tracks:
Anamorphic Widescreen 1.78:1

Audio Tracks:
Dolby Digital 5.1 Surround English

Subtitle Tracks:
English HoH

Directed By:
Michael Feifer

Written By:
Michael Feifer

Starring:
David Faustino
Andrew Divoff
Kostas Sommer
Joe Torry
Corin Nemec
Jen Nikolaisen
Johnny Liska
Caia Coley
Tara Shayne
Beth Shea
Sonia Curtis
John Gorman
Timothy Oman
Jack Stehlin
Jay Pickett
Sal Catalano

Soundtrack By:
Andres Boulton

Director of Photography:
Hank Baumert Jr.

Editor:
Roberto Jimenez

Costume Designer:
Alicia Joy Rydings

Producer:
Michael Feifer

Executive Producer:
Barry Barnholtz

Distributor:
Lionsgate