I Know How Many Runs You Scored Last Summer out in June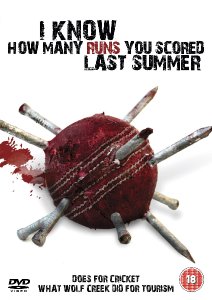 AT LEAST THIS TIME THEY'LL GET TO KEEP THE ASHES!
Co-directors Stacey Edmonds and Doug Turner pitch an almighty googly at the slasher movie genre in their debut feature, the cricket-themed horror-comedy I KNOW HOW MANY RUNS YOU SCORED LAST SUMMER, coming to DVD this June.If you thought The Ashes represented the ultimate grudge match between English and Australian cricketers, then think again. This time the game is not only personal, it's also deadly and the biggest test is to stay alive. Edmonds and Turner's hilarious and bloody movie puts an irreverent, parodic spin on slasher conventions as well as introducing a unique serial killer who won't finish his "over" until all his victims are permanently dismissed.
When a couple of Australian cricketing buddies are found murdered, the ensuing police investigation reveals the unlikely culprit to be a "Pommie bastard psycho" serial killer out for revenge on the now-grown-up kids who bullied him following a school cricket match two decades ago. Armed with an impressive moustache and an arsenal of ingeniously customised cricket equipment - including a quiver of sharpened stumps, razor-fingered batting gloves and nail-embedded cricket balls - his goal is to batter and bowl out his old school team once and for all.
As the search for the killer continues, the detectives in charge of the case move the surviving teammates to a safe-house on a remote farm for their protection. But, unknown to them, the cricket-crazed tourist is already several runs ahead in the game.
Full of knowing nods to many slasher classics and featuring bucketloads of blood and gore, I KNOW HOW MANY RUNS YOU SCORED LAST SUMMER is a fun romp that will appeal to cricket fans and horror fans alike (if you're a cricket-loving horror fan, you've just found your perfect movie!). And, paying homage to one of the slasher genre's most revered conventions, the film also features the most gratuitous, lingering shower scene (starring former Miss Nude Australia, Arianna Starr) to be put on celluloid since Brian De Palma's "Dressed To Kill".
I KNOW HOW MANY RUNS YOU SCORED LAST SUMMER (cert. 18) will be released on DVD (£12.99) by Anchor Bay Entertainment on 29th June 2009.