RPG game based Midnight Chronicles out in June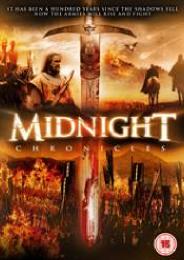 MIDNIGHT CHRONICLES
BASED ON THE AWARD-WINNING MIDNIGHT ROLE-PLAYING GAME
DVD Release date: 8th June 2009
Running time: 100 minutes
DVD RRP: £15.99
Cert:
15 
MIDNIGHT CHRONICLES tells the tale of two legendary characters - one for the cause of good, the other for the cause of evil. This is the story of their rise, their struggle, and ultimately their fate, as their destinies become intertwined with that of the world and the dark god that occupies it.
In the world of Midnight, it is a time of overwhelming darkness. After three ages of scheming and war, the dark god Izrador has finally defeated the heroes and armies of the free races. He now rules the world of Aryth with an iron fist. Enslaved under the Shadow, the race of men lead an oppressed existence, and the elves and dwarves have retreated to distant forests and mountains, where their desperate resistance is slowly succumbing to the unyielding might of the Shadow. 
Investigating the disappearance of a legate priest, the infamous Mag Kiln has been ordered by the church to travel to the small Erenlander town of Blackweir. There, he soon becomes entangled in an old mystery and begins to uncover not only the forbidden legacy of the town, but the malevolent, prophetic force that grows within him. 
In the vein of THE LORDS OF THE RING TRILOGY, THE CHRONICLES OF NARNIA and BEOWULF, MIDNIGHT CHRONICLES is a riveting addition to the fantasy genre. 
Please note there are no special features.