Raising Jeffrey Dahmer hits DVD in May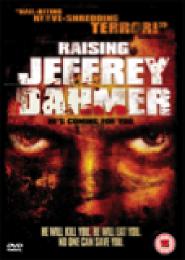 HE WILL KILL YOU. HE WILL EAT YOU.
NO ONE CAN SAVE YOU
One of America's most notorious and horrific serial killers, Jeffery Dahmer was convicted of slaughtering and dismembering 17 young men in a killing spree that began with the gruesome slaying of a hitchhiker in 1978. When he was arrested in 1991, the grim details of Dahmer's crimes made global news as the world heard graphic reports of murder, sexual perversion, butchery, cannibalism and a freezer packed with human body parts.
Starring Bo Svenson (Kill Bill: Vol. 2), Rusty Sneary (Suspension) and Scott Cordes (Suspension; Saving Grace B. Jones), the directorial debut of Rich Ambler, 
RAISING JEFFREY DAHMER
 tells the terrifying true story of the infamous homicidal necrophiliac as seen through the eyes of Jeffrey's father, Lionel, and his second wife, Jeffrey's stepmother.
Closely following the true-life events, 
RAISING JEFFREY DAHMER
 unflinchingly examines the turbulent times of the Dahmer family as they finally become aware of the scale of their son's sickening crimes.
++RAISING JEFFREY DAHMER (cert. 15) will be released on DVD (£12.99) by Revolver Entertainment on 18
th
 May 2009.