Are you Robsessed? Documentary on Pattinson arrives in March on DVD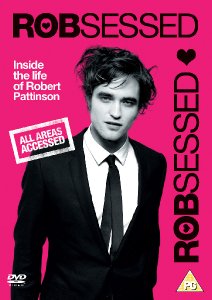 "
Sexiest Man on the Planet
"
- Heat Magazine
"
The next Jude Law.
"
- Evening Standard
ROBSESSED
Release Date:
8th March 2010    
            Label:
Revolver Entertainment 
Voted the Sexiest Man in the World by Glamour Magazine, clinching 'top male hottie' at the Teen Choice Awards and the winner of the 'Breakthrough Performance' and 'Best Kiss' awards from MTV Movies for his smash hit 'Twilight,' Robert Pattinson is one of Hollywood's Hottest Heartthrobs today!  To celebrate his success and to coincide with the launch of New Moon on DVD, Revolver Entertainment are releasing ROBSESSED on DVD this March. 
Following his shot straight to fame from his role as Cedric Diggory in the legendary Harry Potter and the Goblet of Fire and fresh from his second major leading role in the Twilight Saga, ROBSESSED features a the first ever behind-the-scenes access all areas documentary on the life of Robert Pattinson. 
ROBSSESED provides an insightful and fascinating view into the foundations of the making of the young British leading actor and his transition to International Superstar. The film charts the British star's flight through the ranks to International celebrity and provides the inside story that led to his world-wide fame and sex symbol status! 
ROBSSESED includes sizzling secrets of Rob's first kiss, his bullying at school and gossip on his co-stars, featuring a great selection of interviews with his Drama teacher, past co-star Anne Reid ('The Bad Mother's Handbook'), influential figures in the showbiz industry, as well as some of his super fans! No stone is left unturned as the first ever documentary on Rob is released nationwide. ROBSESSED is an exclusive no-holds-barred look at Rob's background and offers more than a glimpse into his life and those closest to him. 
"Up until I was 12 my sisters used to dress me up as a girl and introduce me as `Claudia`! Twelve was a turning point as I moved to a mixed school and then I became cool and discovered hair gel."
- Robert Pattinson
Title:
Robsessed         
Credit:
Revolver Entertainment 2010
Age Rating:
PG
Special Features:
Photo Gallery