Cartoon series Wolverine and the X-Men out in May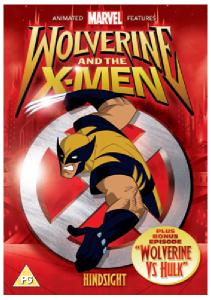 WOLVERINE AND THE X MEN
VOLUME ONE - HINDSIGHT
Released by:
E1 Home Entertainment
Released:
25th
May 2009 
2009 certainly is THE YEAR of
Wolverine
! and
Contender Home Entertainment
proudly presents the first time release of the brand NEW
Marvel
animated series
Wolverine And The X-Men
. This new series has already become a hit on CBBC and releases as the much anticipated Wolverine X-Men Origins hits theatres; promising to become the next big thing on DVD.
After a mysterious explosion devastates the X-Mansion, Professor Charles Xavier and Jean Grey go missing. Leaderless and without direction, the X-Men disband and the man known as
Wolverine
leaves the world behind. 
One year later, the once fiercely independent
Wolverine
must now reunite the X-Men to prevent a horrible vision of the future where the X-Men gave up on Xavier's mission and the world fell into chaos. 
With great tragedy in their past and their future,
Wolverine and the X-Men
must now steer the course of history away from catastrophe. If the X-Men are to stay together as a team long enough to save the world,
Wolverine
will have to set aside his doubts, and the loaner will have to become a leader. 
As the newest installation in the franchise,
Wolverine and the X-Men
continues Marvel's tradition of epic storytelling. This new animated series focuses on the most legendary of X-Men --
Wolverine
-- and celebrates the unique qualities of the X-Universe: the action, the iconic characters and the storylines.
The DVD contains the first six episodes from Season One of the unstoppable Wolverine And The X-Men, plus a bonus episode, Wolverine Vs. Hulk, making this an essential purchase for any cartoon or comic book fan. Get ready for some more Marvel mania this summer with this awesome new animation that's yours to own on DVD