Terminator 3: Rise of the Machines arrives in May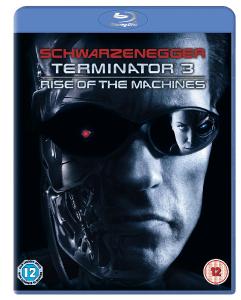 Terminator 3: Rise of the Machines

Available to buy and rent on Blu-ray disc 25th May

Available for the First Time in High-Definition with Exclusive Blu-ray Added Value including Picture-in-Picture "Terminator Vision"
Arnold Schwarzenegger (
Terminator, True Lies
)  is back as the ultimate cyborg assassin for another explosive, action-packed ride in
Terminator 3
, but this time he's taking on Skynet in High-Def! This global smash-hit blasts onto screens on Blu-ray Disc on May 25th  2009, looking better than ever and including exclusive special features and interactive content. The Picture-in-Picture "Terminator Vision" gives fans the chance to join Director Jonathan Mostow (U-571) as he takes them on a Behind-the-Scenes tour of the movie, whilst the
cine
chat feature lets viewers interact with each other as they experience the enhanced visuals and sound that only Blu-ray can deliver!
A decade has passed since John Connor (Nick Stahl) helped prevent Judgment Day and save mankind from mass destruction. Now 22, Connor lives "off the grid" - no home, no credit cards, no cell phone and no job. No record of his existence. No way he can be traced by Skynet - the highly developed network of machines that once tried to kill him and wage war on humanity. Until... ...out of the shadows of the future steps the T-X (Kristanna Loken), Skynet's most sophisticated cyborg killing machine yet. Sent back through time to complete the job left unfinished by her predecessor, the T-1000, this machine is as relentless as her human guise is beautiful. Now Connor's only hope for survival is The Terminator (Arnold Schwarzenegger), his mysterious former assassin. Together, they must triumph over the technologically superior T-X and forestall the looming threat of Judgment Day...or face the apocalypse and the fall of civilization as we know it.
Directed by Jonathan Mostowwith thescreenplay written by John Brancato (
Terminator Salvation
,
Catwoman
) and Michael Ferris (
Terminator Salvation
),
Terminator 3
also stars Claire Danes (
Stardust
), Nick Stahl (
Sin City
) and Kristanna Loken (
The L-Word
) as the beautiful but deadly cyborg T-X.
All-New Exclusive Special Features
Digitally Mastered Audio and Video
"Terminator Vision": Picture-in-Picture feature which provides a unique user experience. Fans can join Director Jonathan Mostow and his Creative Team as they take them on a Behind-the-Scenes tour of the making of

Terminator 3

Cinechat: Viewers can experience the film whilst interacting with each other via this Blu-ray exclusive feature
 Additional Special Features
Blooper Reel: Terminal Flaws: Gag Reel
Commentary: Director & Cast
Commentary: Director Commentary
Deleted Scenes: Sgt Candy Scene
Featurette: Documentary
Featurette: Dressed to Kill
Featurette: Making of the Video Game
Featurette: Storyboards
Featurette: Toys in Action
The Blu-ray Disc version of
Terminator 3
is BD-Live™ enabled, allowing users to get connected and go beyond the disc via an Internet-connected Blu-ray player. Download exclusive content, register for rewards, give feedback through our survey and more!