Anime Review Roundup
First the news...
Full Metal Alchemist Gets A New TV Series
I raved about this series long and hard on this site, one of the best fantasy shows in anime, and now it looks as if there will be more Full Metal Alchemist coming to television screens in the not too distant future. It's unclear as yet as to whether it will be a continuation of the original series (which had a pretty solid conclusion in the film), or if it will be a reboot. Fan speculation is leaning towards a new adaptation of the original manga. Read more at
Anime News Network
. Incidentally, the Special Edition of the Full Metal Alchemist Movie is released in the UK in September.
Watch Kurosawa In High Definition
It's not what you think, but it is a first nonetheless. Funimation in the US continue their expansion into the next generation formats by announcing more anime to come out in Blu-ray. But an intriguing development is the almost casual announcement of Samurai 7, a futuristic update of The Seven Samurai, a series of which I reviewed the standard definition version a few years back. I may be wrong, but this is the first full-length anime series to get the Blu-ray treatment in the West. See the announcement at
AnimeOnDVD
Manga And Funimation, Sitting In A Tree...
This has been a weekend of developments, with an eagle-eyed forum goer at AnimeOnDVD spying that Anime On Line had listed xxxHolic and Black Blood Brothers as due for release from Manga Entertainment this autumn. Then this morning,
EyeOnAnime
reported that they also have Ghost Hunt, Jy-Oh-Sei: Planet of the Beast King, and Always My Santa as well. Ever since Navarre acquired Funimation two years ago, Funimation titles have been distributed exclusively by sister company Revelation. This development apparently signals an end to that exclusivity. Expect formal announcements as time passes.
More Funimation Youtube Fun!
Funimation continue to add content to their
Youtube
site as I have been reporting over the last few weeks. You can now catch...
Blue Gender eps 1-16
Kiddy Grade eps 1-16
Peach Girl eps 1-16
Slayers eps 1-16
Mushi-shi eps 1-12
Rumbling Hearts eps1-8
Suzuka eps 1-4
... at the click of a mouse.
Hellsing Is Coming, Hellsing Is Coming!
October sees the UK release of the Hellsing Ultimate OVA, a more faithful and bloody adaptation of the manga than the original series that was released by ADV. Manga Entertainment are whetting our appetites with the release of six clips to view.
Clip 1.
Low Res
,
High Res
Clip 2.
Low Res
,
High Res
Clip 3.
Low Res
,
High Res
Clip 4.
Low Res
,
High Res
Clip 5.
Low Res
,
High Res
Clip 6.
Low Res
,
High Res
Expect a review on this site in the next few weeks.
... Oh, and there's more Pokemon coming.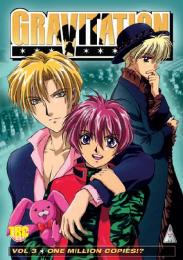 Speaking of reviews, the anime keeps on flowing, and last week saw three MVM titles cross my path. It may have just been one distributor, but there's no shortage of variety. For the last two months, I have been thrust cruelly from my comfort zone, into the world of young male romance. Floundering in a sea of the unfamiliar, I grasped for some point of familiarity, and I found it in an eighties pop soundtrack.
Gravitation
has kept my toes tapping to be sure, but does this final third volume finally ensnare me with its charms? Britain's first yaoi anime ends here and clicking will sate your curiosity.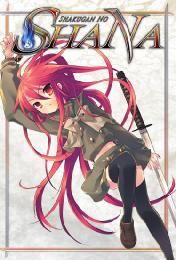 That was Tuesday. On Thursday I was back in familiar territory with Shana's third volume, a nice little supernatural action romance that ploughs a familiar furrow. Yuji and Shana have to build up their strength to face ever more terrible foes from the Crimson Realm, and in between deal with a burgeoning teen romance, and a gratuitous swimsuit episode. When a girl batters you over the head with a big stick, it means she likes you. See if I like
Shana
by clicking the link.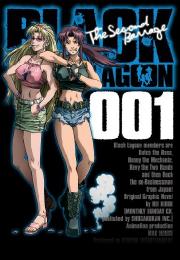 I wrapped things up on Saturday with the first volume of
Black Lagoon - The Second Barrage
. I've been rubbing my hands eagerly for this series, even more so since Region 1's woes hit last year, and it looked as if we would get it first. In the end, we're still last, but only by three weeks. If you've missed out on the three volumes of the first season, you've missed out on the shootingest, wildest, rawest, eighties action movie of an anime there has ever been. Don't bother clicking the link. Buy it! Buy it now! Buy it before Revy blows your brains out!
Gravitation: Volume 3 comes out on the 8th of September, Shana: Volume 3 and Black Lagoon - The Second Barrage: Volume 1 have been put back a week until the 15th. All are released in the UK by MVM.