Ninja Scroll (UK)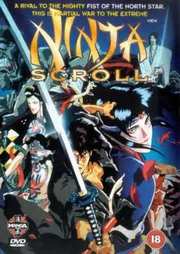 a.k.a Jûbei ninpûchô
Certificate: 18
Running Time: 91 mins
Retail Price: £17.99
Release Date:
Content Type: Movie
Synopsis:
Jubei is a masterless ninja who travels the land alone, hiring his services out to those with gold…or a worthy cause. His fearsome abilities have served him well, but a hideous plot to overthrow the government threatens to end his wandering ways and possible his life.

When a small village succumbs to a terrible plague, a team of ninjas are sent to investigate and realise all is not as it seams. Ambushed, they are wiped out by a fearsome man-monster with incredible powers, leaving only one alive- Kagero, a beautiful female ninja whose touch can bring instant death. Jubei saves her from a fate worse than death and unwittingly becomes drawn into a web of treachery. He is soon faced with his greatest challenge, an enemy for whom death holds no fear with the power to destroy Jubei`s world. It`s an all-out bloodbath when ninja warriors come face to face in this action-packed tribal war.

Ninja Scroll features a wicked cast of characters, extraordinary fight scenes and stunning animation from Yoshiaki Kawajiri and Madhouse Studios.
Special Features:
Complete Movie Synopsis
Key Character Art & Text Files
Manga Video Commercial.
Manga Video Fan Club Trailer.
Theatrical Trailer.

Video Tracks:
Standard 1.33:1

Audio Tracks:
Dolby Digital 5.1 English
Dolby Digital Stereo 2.0 Japanese

Subtitle Tracks:
English

Directed By:
Yoshiaki Kawajiri

Written By:
Yoshiaki Kawajiri

Starring:
Kôichi Yamadera
Emi Shinohara
Toshihiko Seki

Music From:
Kaoru Wada

Director of Photography:
Hitoshi Yamaguchi

Editor:
Harutoshi Ogata
Yukiko Ito

Producer:
Masaki Sawanobori
Haruo Sai
Yutaka Maseba
Shigeki Komatsu

Executive Producer:
Yutaka Takahashi
Ken Iyadomi
Makoto Hasegawa
Masamichi Fujiwara