Ninja Scroll: Box Set (UK)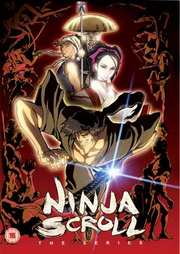 a.k.a Jûbei ninpûchô
Certificate: 18
Running Time: 0 mins
Retail Price: £29.99
Release Date:
Content Type: TV Series
Synopsis:
Volume 1 - Dragon Stone: In feudal Japan, the Edo period brought a time of delicate peace bought with blood. Ninja Scroll: The Series chronicles the life of Jubei Kibagami as he wanders the countryside as a ninja for hire. At this time, ninja clans are everywhere. One clan, known as the Hiruko Clan, doomed to live and die in darkness, protects a sacred treasure called the Dragon Stone. The Kimon Clan, however, bent on reviving the power of the Toyotomi, wants the Dragon Stone and the treasure it hides. Jubei is the best man for the job of protecting both the Dragon Stone and the only one who can use it-The Light Maiden.

Volume 2 - Dangerous Path: Jubei, Shigure, Dakuan and Tsubute set out to find answers. The battles heat up as the Kimon become more desperate to obtain the Dragon Stone and the Light Maiden, while the Hiruko are just as desperate to keep the Kimon from their goal. Everyone is out for blood, with Jubei stuck right in the middle!

Volume 3 - Deliverance: The war between the clans reaches its climax as Shigure is kidnapped by the Kimon clan, leaving both the Hiruko and Jubei desperately chasing after them. As the powers of the Light Maiden grow stronger, friends and enemies become harder to tell apart and Shigure, pursued by legions of creatures, finds she can no longer deny her responsibilities as the Light Maiden. She alone is the key to finishing the war, and the drifter ninja Jubei has committed himself to seeing her to the end!
Special Features:
Interview with director Tatsuo Sato
Interview with the character designer
Storyboard to finished film comparison
`Creating The Cover Art` featurette
Interviews with the soundtrack composers
Behind the scenes
Art gallery
Textless opening and closing animations
Original trailer

Video Tracks:
Standard 1.33:1

Audio Tracks:
Dolby Digital 5.1 English
Dolby Digital Stereo 2.0 Japanese

Subtitle Tracks:
English

Directed By:
Yoshiaki Kawajiri

Written By:
Yoshiaki Kawajiri

Starring:
Toshihiko Seki
Emi Shinohara
Kôichi Yamadera

Music From:
Kaoru Wada

Director of Photography:
Hitoshi Yamaguchi

Editor:
Yukiko Ito
Harutoshi Ogata

Producer:
Shigeki Komatsu
Yutaka Maseba
Haruo Sai
Masaki Sawanobori

Executive Producer:
Masamichi Fujiwara
Makoto Hasegawa
Ken Iyadomi
Yutaka Takahashi