Star Trek: Nemesis (Widescreen) (US)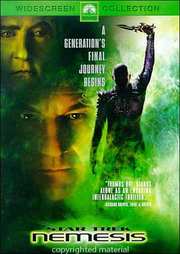 A Generation`s Final Journey Begins...
Certificate: PG-13
Running Time: 116 mins
Retail Price: $29.99
Release Date:
Content Type: Movie
Synopsis:
Set a course for a galaxy of unparalleled action and adventure as Captain Jean-Luc Picard (Patrick Stewart) and his Starship crew battle a chilling new adversary... that just happens to hold a shocking link to Picard!

In the wake of a joyful wedding between Riker (Jonathan Frakes) and Troi (Marina Sirtis), Picard receives another reason to celebrate: the Romulans want peace and the captain will be the Federation`s emissary. But as the Enterprise heads toward the Romulan Empire, a brilliant villain awaits-harboring a diabolical plan of destruction and an unimaginable secret that will give Picard his most fearsome challenge.

Costarring Brent Spiner, LeVar Burton, Michael Dorn, Gates McFadden and introducing Tom Hardy as Picard`s deadly foe. Star Trek Nemesis is "exciting! Inventive twist-plus the unexpected shoot sparks of surprise throughout the picture." (Gene Shalit, Today).
Special Features:
Commentary by Director Stuart Baird
Exclusive Documentaries:
New Frontiers: Stuart Baird on Directing Nemesis
A Bold Vision of the Final Frontier
A Star Trek Family`s Final Journey
Red Alert! Shooting the Action of Nemesis
Deleted Scenes
Photo Gallery

Video Tracks:
Widescreen Anamorphic 2.35:1

Audio Tracks:
Dolby Digital 5.1 English
Dolby Digital Surround 2.0 English
Dolby Digital Surround 2.0 French

Subtitle Tracks:
English
CC: English

Directed By:
Stuart Baird

Written By:
Brent Spiner
Rick Berman
John Logan
Gene Roddenberry

Starring:
Marina Sirtis
Gates McFadden
Michael Dorn
LeVar Burton
Brent Spiner
Jonathan Frakes
Patrick Stewart

Casting By:
Cathy Sandrich
Amanda Mackey Johnson
Junie Lowry-Johnson

Soundtrack By:
Alexander Courage
Irving Berlin
Jerry Goldsmith

Director of Photography:
Herman F. Zimmerman
Jeffrey L. Kimball

Editor:
Dallas Puett

Costume Designer:
Bob Ringwood

Producer:
Peter Lauritson
Glenn Richard Côté
Rick Berman

Executive Producer:
Marty Hornstein

Distributor:
Paramount Pictures