Star Trek: Insurrection (UK)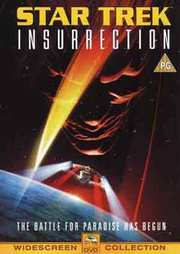 The battle for paradise has begun
Certificate: PG
Running Time: 103 mins
Retail Price: £19.99
Release Date:
Content Type: Movie
Synopsis:
Engage! Captain Jean-Luc Picard (Patrick Stewart) and his Next Generation crew are back and so is the excitement and fun, in this the ninth feature film of the Star Trek series.

From the beginning of the Federation, the Prime Directive was clear: No Starfleet expedition may interfere with the natural development of other civilizations. But now Picard is confronted with orders that undermine that decree.

If he obeys, 600 peaceful residents of Ba`ku will be forcibly removed from their remarkable world, all for the reportedly greater good of millions who will benefit from Ba`ku`s Fountain Of Youth-like powers.

If he disobeys, he will risk his Starship, his career and his life. But for Picard there`s really only one choice. He must rebel against Starfleet... and lead the insurrection to preserve Paradise.
Special Features:
Interactive Menus
Scene Access
Teaser Trailer
Theatrical Trailer
Featurette

Video Tracks:
Widescreen Anamorphic 2.35:1

Audio Tracks:
Dolby Digital 5.1 English
Dolby Digital 5.1 Hungarian
Dolby Digital 5.1 German

Directed By:
Jonathan Frakes

Written By:
Michael Piller
Rick Berman

Starring:
F. Murray Abraham
Marina Sirtis
Gates McFadden
Michael Dorn
Levar Burton
Brent Spiner
Jonathan Frakes
Patrick Stewart

Casting By:
Ron Surma
Junie Lowry-Johnson

Soundtrack By:
Jerry Goldsmith

Music From:
Ludwig Van Beethoven
Arthur Sullivan
Joseph Haydn

Director of Photography:
Matthew F. Leonetti

Editor:
Peter E. Berger

Costume Designer:
Sanja Milkovic Hays

Production Designer:
Herman F. Zimmerman

Producer:
Patrick Stewart
Michael Piller
Peter Lauritson
Rick Berman

Executive Producer:
Marty Hornstein

Distributor:
Paramount Pictures