XXX (UK)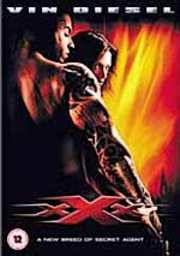 A new breed of secret agent
Certificate: 12
Running Time: 119 mins
Retail Price: £19.99
Release Date:
Content Type: Movie
Synopsis:
This amped action drama stars Vin Diesel as Xander (aka Triple X), a rebellious extreme sports star with a mission to defy authority and create anarchy. In the dramatic opening scene of the movie, Xander pulls an outrageous series of stunts with the help of a band of similar-minded jocks, broadcasts the whole event live onto the Internet with a network of strategically placed digital cameras, and then avoids being captured by the squadron of police who pursue him. When Triple X is later taken into custody, Gibbons (Samuel L. Jackson), a representative from a government agency, hires the chiseled athlete and turns him into a secret agent with a mission to travel to Prague and collapse a dangerous terrorist cell operated by Yorgi (Martin Csokas) and the seductive Yelena (Asia Argento).

Triple X is quickly drawn into Yorgi`s lair, a stunning chateau situated in the mountains that is equipped with every high-tech modern amenity imaginable, along with a sizeable team of extra-large Slav bodyguards, a laboratory staffed by top scientists, and an always-ready gaggle of gorgeous concubines.

Non-stop stunts, pounding hard-core music, elaborate sets, and inventive costumes make this Rob Cohen-directed adrenaline overload a visually exciting, aurally engaging, highly entertaining success.
Special Features:
Audio commentary from director Rob Cohen
9 deleted scenes
`A Director`s Journey` documentary
`Building Speed: The Vehicles of xXx` featurette
`Designing The World Of xXx` featurette
`Diesel Powered`: a profile of Vin Diesel
Visual Effects How To`s: Avalanche, Exploding Bike Jump, Exploding Hut, Head Removal
2 Multi-angle sequences
`Adrenaline` music video
Story board to finished film comparisons
DVD-Rom features: NSA HQ hack

Video Tracks:
Widescreen Anamorphic 2.35:1

Audio Tracks:
Dolby Digital 5.1 English

Subtitle Tracks:
English

Directed By:
Rob Cohen

Written By:
Rich Wilkes

Starring:
Samuel L. Jackson
Marton Csokas
Asia Argento
Vin Diesel

Casting By:
Ronna Kress
Kate Dowd

Soundtrack By:
Gavin McGregor Rossdale
Phil Hartnoll
Paul Hartnoll
Randy Edelman

Director of Photography:
Dean Semler

Editor:
Paul Rubell
Joel Negron
Chris Lebenzon

Production Designer:
Gavin Bocquet

Producer:
Matthew Stillman
Neal H. Moritz
David Minkowski
Michelle Glass
Derek Dauchy
Creighton Bellinger

Executive Producer:
George Zakk
Arne Schmidt
Todd Garner
Vin Diesel

Distributor:
Columbia / Tristar