Action flick Battle Los Angeles crashes onto Blu-ray and DVD in July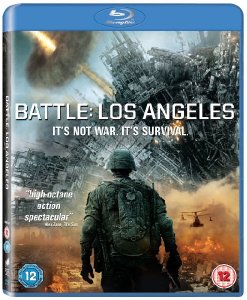 "…spectacular sci-fi full of all the thrills, explosions and combat action you could hope for" 8/10
- Alan Frank,

Daily Star
Aaron Eckhart and Michelle Rodriguez Star
In the Year's #1 Sci-Fi Action Thriller
BATTLE: LOS ANGELES
The Fight for Earth's Survival Begins July 11
on Blu-ray™ and DVD
Sony Pictures Home Entertainment and Sony Computer Entertainment
Collaborate to Present Exclusive Game Demo from the
Upcoming Installment in the Massively Popular PlayStation®3 (PS3™) Franchise,
'Resistance 3™'

Blu-ray Disc™ also includes 'Command Control' Interactive Viewing Mode
London, UK. 09/05/11
- The battle for Earth's survival begins on July 11, in the year's #1 sci-fi action thriller
BATTLE: LOS ANGELES
, storming onto Blu-ray and DVD, from Sony Pictures Home Entertainment. From producer Neal H. Moritz (
Fast and the Furious
series,
xXx
) and director Jonathan Liebesman (upcoming
Clash of the Titans 2
) comes this pulse-pounding tale of a U.S. Marine squadron fighting off hostile alien invaders bent on colonizing our planet, starring Aaron Eckhart (
The Dark Knight
) and Michelle Rodriguez (
Avatar
,
Machete
). After dazzling audiences around the globe with its stunning special effects, intense action sequences and a cast that also includes Ramon Rodriguez (
Transformers 2: Revenge of the Fallen
,
The Taking of Pelham 123
), Bridget Moynahan (
I, Robot
,
Lord of War
), Ne-Yo (
Stomp the Yard
,
Save the Last Dance 2
) and Michael Peña (
Crash
,
Million Dollar Baby
),
BATTLE: LOS ANGELES
arrives on Blu-ray and DVD ready to shock sci-fi and action fans with eye-popping picture quality, earth-shaking sound and non-stop suspense.
For a limited time the
BATTLE: LOS ANGELES
Blu-ray will include a code to access an exclusive playable game demo of the first-person shooter PS3™ game
Resistance 3™.
The code in-pack can be used to download the
Resistance3
demo directly from PlayStation™ Network.
Resistance 3
,
the latest installment in the multi-million selling post-apocalyptic franchise, will be available in September from developer Insomniac Games and Sony Computer Entertainment. In addition to the incredible thrills of the year's top action/sci-fi film, Blu-ray fans around the world will be the first to sample nearly one half-hour of game play from the upcoming
Resistance 3
,
assuming the role of hero Joseph Capelli as he travels by boat to St. Louis through the flooded and deadly waters of the Mississippi fighting off a relentless alien race, the Chimera. The exclusive playable game demo will only be available to adults aged 18 and over.
The Blu-ray edition also includes a "Command Control" interactive viewing mode, allowing audiences to experience the film with picture-in-picture featurettes, storyboard comparisons and Battle Points within the context of the movie.
BATTLE: LOS ANGELES
will be available for £24.99(BD) and£19.99 (DVD).
About BATTLE: LOS ANGELES
For years, there have been documented cases of UFO sightings around the world -- Buenos Aires, Seoul, France, Germany, and China. But in 2011, what were once just sightings will become a terrifying reality when Earth is attacked by unknown forces. As people everywhere watch the world's great cities fall, Los Angeles becomes the last stand for mankind in a battle no one expected. It's up to a Marine staff sergeant (Eckhart) and his new platoon to draw a line in the sand as they take on an enemy unlike any they've ever encountered before.
BATTLE: LOS ANGELES
was written by Chris Bertolini (
The General's Daughter
) and produced by Neal H. Moritz and Ori Marmur (
The Green Hornet
,
The Bounty Hunter
). Executive producers are Jeffrey Chernov (upcoming
Mission Impossible: Ghost Protocol
,
Star Trek
) and David Greenblatt. It was distributed by Columbia Pictures and has a run time of approximately 116 mins. It has been rated12.
About Resistance 3:
August, 1957. America is lost. Four years after the end of the critically-acclaimed Resistance® 2, dishonorably discharged Sentinel Joseph Capelli has given up fighting the Chimeran menace. Now he's in hiding with other survivors, including his wife and young son. But when Dr. Fyodor Malikov arrives with the opportunity to deliver a blow to the occupying Chimeran force, Capelli must leave his family and journey the harrowing road from Oklahoma to New York City. Along the way, he'll encounter the remnants of humanity left in the aftermath of the brutal Chimeran invasion. Powered by Insomniac Games' fifth-generation PS3 technology, Resistance 3 portrays Capelli's heroic survival inside the brutal Resistance world. Featuring new upgradeable weapons, the return of the weapon wheel, two-player online or split-screen campaign co-op and a progression-based multiplayer experience, Resistance 3 delivers a heroic-yet savage first-person shooter experience for the PS3 system.
DVD Bonus Features:
· Featurettes:
o
Behind The Battle
o
Aliens in LA
o
Preparing for Battle
o
Creating L.A. in LA
Blu-ray Disc Bonus Features:
·
Command Control
- Command and control your viewing experience by watching Picture-in-Picture, Storyboard Comparisons and Battle Points within the context of the movie.
· Featurettes:
o
Behind The Battle
o
Aliens in LA
o
Preparing for Battle
o
Creating L.A. in LA
o
Directing the Battle
o
Boot Camp
o
The Freeway Battle
· PS3 theme/wallpaper
·
movie
IQ
Visit Sony Pictures Home Entertainment on the Web at
www.SonyPictures.com
PRODUCT INFORMATION
TITLE
Battle: Los Angeles
Release Date
11 July, 2011
Format
Retail DVD / Retail Blu-ray
RRP
DVD: £19.99
Blu-ray: £24.99
Certificate
12 (Resistance 3 demo is cert 18)
Genre
Sci-Fi Action Thriller
Running Time
DVD: 111 mins
Blu-ray: 116 mins
ABOUT SONY PICTURES HOME ENTERTAINMENT
Sony Pictures Home Entertainment is a Sony Pictures Entertainment (SPE) company. SPE is a subsidiary of Sony Corporation of America, a subsidiary of Tokyo-based Sony Corporation. SPE's global operations encompass motion picture production and distribution; television production and distribution; digital content creation and distribution; worldwide channel investments; home entertainment acquisition and distribution, operation of studio facilities; development of new entertainment products, services and technologies; and distribution of filmed entertainment in more than 140 countries. Sony Pictures Entertainment can be found on the World Wide Web at
http://www.sonypictures.com
.