Masters of Sex: Season 1 comes to DVD in July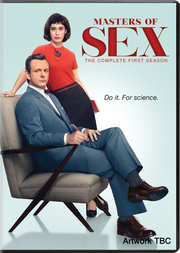 Fans of the great
Showtime
drama series
Masters of Sex: Season 1
will be thrilled to hear that it's coming to DVD on 28th July, but annoyingly not in any HD format.
Starring Michael Sheen and Lizzy Caplan, this co-stars Caitlin FitzGerald, Teddy Sears, Nicholas D'Agosto and Beau Bridges. This will probably have a recommended retail price of £19.99.
Synopsis and trailer follow...
This follows the real-life pioneers of the science of human sexuality, Dr. William Masters and Virginia Johnson.
The series chronicles the unusual lives, romance and pop culture trajectory of Masters and Johnson and the effect their research had on the family and colleagues around them.
Their study ignited a sexual revolution and took them from a Midwestern teaching hospital in St. Louis to the cover of Time magazine.