Two more classic Irwin Allen series come to DVD in June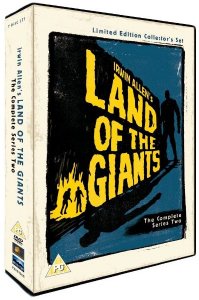 Land Of The Giants - The Complete Series Two
OUT ON DVD 13 JUNE 2011
** WORLD EXCLUSIVE **
INCLUDES A BRAND NEW CAST COMMENTARY
RECORDED SPECIFICALLY FOR THE UK RELEASE
The crew and passengers of crashed spacecraft the Spindrift return for The Second and final instalment of Irwin Allen's legendary sci-fi series.
Captain Steve Burton (Gary Conway) leads the team of survivors as they continue to fight for survival on the hostile giant planet where they are stranded. With the totalitarian government's Special Investigations Department out to seize the 'little people' at every turn, the survivors have their work cut out for them as they attempt to avoid capture and return to Earth.
A world of science-fiction and adventure awaits you in the Land of the Giants!
Plus cast interviews, still galleries and exclusive booklet!
Product Info: Catalogue Number PAR61566 | Barcode 5027182615667 | RRP £39.99 | 25 Episodes | 7 Discs
C R E A T E D   B Y   S C I - F I   V I S I O N A R Y   I R W I N   A L L E N
Voyage To The Bottom Of The Sea - The Complete Series Two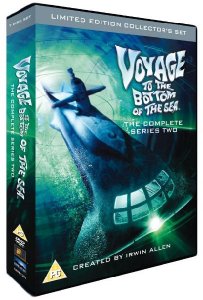 OUT ON DVD 13 JUNE 2011
THE SECOND SERIES OF IRWIN ALLEN'S SCI-FI TV CLASSIC
COMES TO YOU IN GLORIOUS COLOUR!
26 EPISODES PLUS SPECIAL FEATURES IN ONE LIMITED EDITION
7 DISC COLLECTOR'S SET AVAILABLE FOR THE VERY FIRST TIME IN THE UK!
The SSRN Seaview, the world's most technologically advanced submarine, is back and more powerful than ever - now housing the spectacular Flying Sub! Climb aboard with Admiral Nelson (Richard Basehart), Captain Crane (David Hedison) and their crew as they brave hostile waters and explore uncharted depths, protecting the planet from sinister foreign agents, deadly sea creatures and evil scientists bent on world domination!
Filled with espionage, action, sci-fi and suspense, Voyage To The Bottom Of The Sea is a true TV classic.
Special Features: David Hedison Interview, Special Effects Footage (no audio), Still Galleries, Original US Broadcast Order.
Product Info: Catalogue Number PAR61561 | Barcode 5027182615612 | RRP £39.99 | 26 Episodes | 7 Discs