H.G. Wells' classic Things to Come is arriving lovingly restored on Blu-ray in June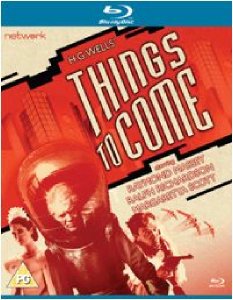 Oh classic Sci-fi from the times before colour, how we love you so.
Network Video
have announced the release of H. G. Wells' classic
Things to Come
for Blu-ray out on 18th June. With a retail price of £19.99, this runs for 92 minutes and comes in all its full frame glory.
Starring Ralph Richardson and Raymond Massey, this restored version is the most complete known to exist at the time of writing. And coming as a 2 disc set, it is filled to the brim with extras.
In addition to the main feature, there is a virtual extended edition, allowing for the inclusion of text and images from long missing and unfilmed scenes to present a tantalising 'what if'? Also included is an audio commentary track with expert Nick Cooper.
Other extras include the 25 minute documentary
On Reflection: Brian Aldiss on H.G. Wells
from 1971, Ralph Richardson interview by Russell Harty in 1975,
The Wandering Sickness 
which is an original 78rpm recording, two image galleries and the US re-release trailer.
It also comes with an extensive booklet written by Nick Cooper and expanded from the DVD set, plus the script in the form of a PDF on the first disc. Excited? We are!
The synopsis follows...
It's Christmas 1940 and the people of Everytown, unprepared and ill-equipped, find themselves at war against an enemy, who has been planning such a conflict for years. The land is devastated by the horrors of aerial bombardment as the war drags on for thirty years, causing seemingly endless period of despair. With feudal tyrants ruling a downtrodden populace suffering famine and pestilence, can the human race rise above its desperate plight and ultimately create a scientific utopia?
Acknowledged as a landmark within the genre, Oscar-winning William Cameron Menzies creates an astounding vision of post-war desolation and utopian futurism; this timeless Sci-Fi classic also showcases a breath-taking and instantly recognisable score by Arthur Bliss. THINGS TO COME sets a high benchmark for science fiction with its fantastic design, gigantic sets and spectacular special effects.