Fast & Furious out in September on DVD and Blu-ray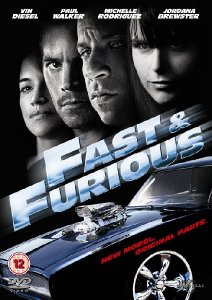 New Model.  Original parts
. 
FAST & FURIOUS
took over £13.5m at the UK box office and zoomed to the no. 1 spot - making it twice as big as any of the franchise to date!  
From illegal street racing in Los Angeles, money laundering in Miami to drifts on customized rides across perilous Tokyo courses, one series built on speed has become a global sensation.  Now, in the next chapter, the four original characters reunite and come home to where it all began.
The new high-octane action thriller
FAST & FURIOUS
speeds onto Blu-ray and DVD 21st September 2009.  
The high-octane thrill-seeking joyride is back!!
FAST & FURIOUS
returns as the biggest instalment to date, starring the original cast and packed with more high speed races, outrageously daring stunts and breathtaking fast-paced action than ever before. Available to own and rent on Blu-ray and DVD from
21st SEPTEMBER 2009
, this is one adrenaline-packed ride that can't be missed!     
VIN DIESEL
(
xXx, Pitch Black
) and
PAUL WALKER
(
Running Scared,
Flags of Our Fathers
,) head back to the mean streets of L.A., where they rejoin
MICHELLE RODRIGUEZ 
(
Lost
,
Resident Evil
) and
JORDANA BREWSTER
(
Chuck
,
The Texas Chainsaw Massacre: The Beginning
) to blast muscle, tuner and exotic cars along the crowded streets and across international lines. 
Eight years ago international ex-con Dom Toretto (Diesel) committed himself to a fugitive existence, successfully hijacking fuel tankers in the Dominican Republic, with the sole remnant of his past, girlfriend Letty. When a tragic death brings him back to L.A., Dom reignites his feud with agent Brian O'Conner (Walker), as they are forced to confront a shared enemy, the notorious drug lord trafficking heroin across the US / Mexico border. 
Dom and Brian must accept an uncertain new trust if they hope to avenge the tragedy that has ripped their lives apart and get the answers they are so desperately looking for. Infiltrating the underground network pushes these unlikely allies to the brink of their racing capabilities to earn a spot on a heist squad. Racing through the almost un-navigable tunnels carved into the caves, against the clock before the border control can identify a security breach, Dom and Brian become part of the cartel who hold the answers to Letty's death.  
From director
JUSTIN LIN
(
The Fast and the Furious: Tokyo Drift
,)
FAST & FURIOUS
takes everyone on an
adrenaline fuelled revenge-seeking journey through the streets of LA and south into Mexico as the cars and Dom and Brian's driving skills are pushed to the ultimate extreme.
FAST & FURIOUS burns on BLU-RAY and DVD from 21st SEPTEMBER 2009
CAST AND CREW
Vin Diesel                              Dominic Toretto
Paul Walker                          Brian O'Connor
Michelle Rodriguez             Letty
Jordana Brewster                 Mia        
Director:
                                Justin Lin
Writer:                                 
Chris Morgan
                                                Gary Scott Thompson
DVD & BLU-RAY TECHNICAL INFORMATION
Release date:                                      
21st September 2009
Copyright:                                            
Film © 2009 Universal Studios. All Rights Reserved.Artwork & Packaging Design © 2009 Universal Studios. All Rights Reserved.
Running Time:                                     
1hr 47 mins
Cert:                                                      
12 UK 15 Eire
DVD Aspect Ratio:                              
2.40:1              
DVD RRP Price
:                                     £19.99
BLU-RAY Aspect Ratio:                      
2.40:1               
BLU-RAY RRP:                                      
£24.99
DVD BONUS CONTENT
Feature Commentary with Justin Lin
Driving School With Vin Diesel
South Of The Boarder: Filming in Mexico
Gag Reel
1-4 BLU-RAY SPECIAL LIMITED EDITION BOXSET
PIMP MY OWN BOXSET
Blu-ray edition of

The Fast and The Furious
2 Fast 2 Furious
The Fast and The Furious - Tokyo Drift
Fast & Furious

Brushed Steel outer
Set of magnetic decals including:

Designs
Wheels
Trims
Blank number plates

Letters and Numbers stickers to create personal number plates

BLU-RAY BONUS CONTENT
Under The Hood: Muscle Cars
Virtual Car Garage and Tech Specs
Los Bandoleros
Under The Hood: Imports
Getting The Gang Back Together
Driving School With Vin Diesel
Shooting
The Big Red Heist
Races & Chases
High Octane Action: The Stunts
South Of The Boarder: Filing In Mexico
Feature Commentary with Justin Lin
Gag Reel

And much more..