Supernatural Season 4: Volume 2 out September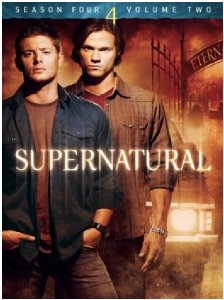 SUPERNATURAL SEASON 4:
VOLUME 2
Out on DVD - 21st September 2009
The Winchester brothers return undeterred from the dangers faced in Volume 1 of Season 4 and continue their war against the demons that are hell bent on murder and destruction. This highly anticipated concluding volume to Season 4 comes out on DVD in the UK courtesy of Warner Home Video on the 21st of September 2009. 
Sam (
Jared Padalecki
) and Dean Winchester (
Jensen Ackles
) lost their mother to a mysterious and demonic supernatural force. They were raised as soldiers by their father, who later died in battle, to fight paranormal evils that infest the dark corners and back roads of America. 
Season 4: Volume 1 saw Dean return from the depths of hell and the brothers came to realise that the demons they encountered were not isolated outbreaks of evil but instead formed volume of a larger war on the American people that only they can stop. In the second half of Season 4, as the apocalypse approaches, the Winchester boys encounter a number of obstacles in their quest to save humanity and continue to battle their own demons that live within. 
The brothers discover a series of comic books titled 'Supernatural' that accurately chronicle their lives as demon hunters. Furthermore the brothers encounter a 19 year-old boy named Adam (Jake Abel) claiming to be Dean and Sam's long lost half brother. Adam's history sparks curiosity and jealousy in equal measures as Dean becomes infuriated by the sheltered and normal life his apparent half-brother has led. 
Both brothers are again forced to probe into their troubled past as they return to one of their old high schools to purge the students of a spirit. This causes a series of revealing flashbacks showing Sam being repeatedly picked on by the school bully, whilst Dean rules the school as the popular kid. The differences that surface in the brothers' past threaten to destroy their quest to rid America of the supernatural evil.  
In the season finale, Dean and Sam decide to attack the mounting demon force in different ways. Sam joins forces with Ruby in a final attempt to kill Lilith, whilst Dean has to defeat Lucifer himself. Dean learns of a plan to end the world and must stop Sam before he falls into a trap that could destroy all humanity. The differences the brothers have experienced throughout the series has caused a rift; only together can they stop the apocalypse, but will their reunion come too late? 
Guest stars include John Rubenstein (
Angel, Family, Day Break
) and Barry Bostwick (
Spin
City
, Law and Order: Special Victims Unit
) as Jay. 
Created by Eric Kripke (
Battle
of the Sexes, Boogyman
) and executively produced by McG whose directing achievements include several blockbuster movies (both
Charlie's Angels
movies and
Terminator Salvation)
and
The O.C
TV series. This concluding Volume to Season 4 will pit the brothers against their toughest challenge yet as the bond they share is shaken to the core. 
Release date:                        21st September 2009
Running time:                       495 mins approx
Extras running time:            85 minutes approximately
Format:                                  3 discs
Cert:                                       PG
Number of Episodes:           11
DVD Special Features
Supernatural Season 4 Volume 1
DVD will include deleted scenes and exclusive audio commentaries. 
Disc 1: None
Disc 2:
"On the Head of a Pin" ep 3T7516Extended Scene 5
"The Monster at the End of this Book" ep 3T7518 Sc.1
"The Monster at the End of this Book" ep 3T7518 Sc. 37
Disc 3:
Audio Commentary Episode 422 "Lucifer Rising"
Gag Reel
Heaven-Angels and Archangels - Gag Reel
Heaven-Angels and Miracles - New Featurette
Heaven-The Ageless Unseen War - New Featurette
Easter Egg: Ghostfacers: Hunting Ghosts Part 1 - New Featurette
Purgatory-The Bonds of Limbo - New Featurette
Easter Egg: Ghostfacers: Hunting Ghosts Part 2 - New Featurette
Hell-The Price of Free Will - New Featurette
Hell-The Sweet Song of Death - New Featurette
Hell-The Destroyer of Children - New Featurette
Easter Egg: Ghostfacers: Hunting Ghosts Part 3 - New Featurette
"The Rapture" ep 3T7520-Deleted Scene 2 - Deleted Scenes
Easter Egg: Ghostfacers: Ghost Martial Arts - New Featurette
Audio Commentary Episode 421 "When the Levee Breaks" - Commentary
"Lucifer Rising" ep 3T7522-Extended Scene 32 - Deleted Scenes