Star Wars: Episode I The Phantom Menace (2 Discs) (UK)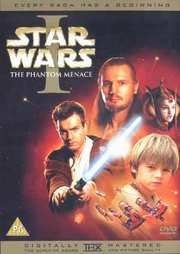 Every saga has a beginning
Certificate: PG
Running Time: 131 mins
Retail Price: £24.99
Release Date:
Content Type: Movie
Synopsis:
Every generation has a legend. Every journey has a first step. Every saga has a beginning... Return to a galaxy far, far away in the first chapter of the mythic Star Wars saga.

Set 30 years before the original Star Wars film, `Episode I` introduces a young Anakin Skywalker, a boy with special powers, unaware that the journey he is beginning will transform him into the evil Darth Vader. Obi-Wan Kenobi, the wise old Jedi from the original trilogy, is a determined young apprentice, and Palpatine, well-known as the evil Emperor, is an ambitious senator in the Galactic Republic.

It is a time when the Jedi Knights are the guardians of peace in a turbulent galaxy and a young queen fights to save her people. In the shadows lurks an evil force waiting for the right moment to strike.

With `Episode I` in your DVD collection, you can experience the excitement again and again. Feel the adrenaline of the Boonta Eve Podrace. Relive the intense lightsaber battles. Discover the incredible detail and breathtaking scope of this milestone in the Star Wars saga.
Special Features:
Interactive Menus
Scene Access
Audio commentary by Writer-Director George Lucas, Producer Rick McCallum, Co-Editor and Sound Designer Ben Burtt, Visual Effects Supervisors Scott Squires, John Knoll and Dennis Muren, and Animation Supervisor Rob Coleman, offering personal insights into the making of the film.
Seven never-before-seen deleted scenes with full visual effects completed just for the DVD release.
`The Beginning` - an all-new hour-long documentary culled from over 600 hours of footage offering unprecedented access inside Lucasfilm and ILM during the making of Episode I.
Multi-angle storyboard to animatic to finished film feature, that lets you flip through the various phases of development of key action sequences.
Five behind-the-scenes featurettes exploring The Phantom Menace`s storyline, designs, costumes, visual effects and fight scenes.
`Duel of the Fates` music video.
All 12 parts of the Lynne`s Diaries - web-based documentary from the www.starwars.com website.
Galleries of theatrical posters, print campaign, and never-before-scene production photos.
Original theatrical teaser and launch trailers, plus seven TV spots including the `tone poems`.

Video Tracks:
Widescreen Anamorphic 2.35:1

Audio Tracks:
Dolby Digital EX 5.1 English

Subtitle Tracks:
Swedish
Finnish
CC: English
Danish
Norwegian

Directed By:
George Lucas

Written By:
George Lucas

Starring:
Brian Blessed
Terence Stamp
Frank Oz
Kenny Baker
Anthony Daniels
Ahmed Best
Hugh Quarshie
Oliver Ford Davies
Pernilla August
Ian McDiarmid
Jake Lloyd
Natalie Portman
Ewan McGregor
Liam Neeson

Casting By:
Robin Gurland

Soundtrack By:
John Williams

Director of Photography:
David Tattersall

Editor:
Paul Martin Smith
George Lucas
Ben Burtt

Costume Designer:
Trisha Biggar

Production Designer:
Gavin Bocquet

Visual Effects:
Rob Barnes
Katharine Baird
Carl Assmus
Barbara Affonso
Lauren Abrams
Sean Schur
Veronica D. Loud-Nelson
Peter Hutchinson
Geoff Heron
Jack Haye
Dan B. Goldman

Producer:
Rick McCallum
George Lucas

Distributor:
Twentieth Century Fox