Ghost In The Shell Arise: Borders Parts 3 & 4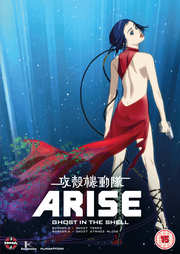 A prequel focusing on a time before Kusanagi and the Section 9 team you've come know and love.
Certificate: 15
Running Time: 117 mins
Retail Price: £19.99
Release Date: 2015
Content Type: Movie
Synopsis:
Ghost In The Shell returns with it's brand new incarnation, ARISE. A 4-part series. This release includes the final two Borders.

Border 3: Ghost Tears
A terrorist bombing and the mysterious death of a detective trigger a deadly investigation involving prosthetic legs and members of a rebel group leftover from an international conflict. When all signs point to a master of cyber warfare known as Fire-Starter, phantoms from the past come back to haunt Major Motoko Kusanagi as she struggles to keep her personal and professional life separate.

Border 4: Ghost Stands Alone
Motoko Kusanagi is closing in on the dangerous hacker who created the false memory virus. After a mass shooting leads to the capture of a key witness, the team finds themselves in a race against the clock to unravel the secrets she's keeping. With enemies appearing all around them and the stakes growing higher by the minute, it's time to find out once and for all: Who is Fire-Starter? And how can they be stopped?
Special Features:
Inside the World of Ghost in the Shell Part 1
Logicoma Heart
Ghost in the Shell: Arise Episode: (JP)
Blu-ray & DVD Spots
Memory of GR: Making of Arise
Logicoma Root
Border:Less Project
- Color
- Foreseeing 2027
- Working High
- Memory
- Yuki Will Never Forget Kenji
Promotional Videos
Theatrical Trailers
Textless Songs
U.S Trailer

Video Tracks:
1.78:1 anamorphic widescreen

Audio Tracks:
Dolby Digital 5.1 Surround English
Dolby Digital 5.1 Surround Japanese

Subtitle Tracks:
English

Directed By:
Kazuchika Kise

Written By:
Tow Ubukata
Masamune Shirow

Starring:
Kenichirou Matsuda
Maaya Sakamoto
Tarusuke Shingaki
Ikkyuu Juku
Kazuya Nakai
Miyuki Sawashiro
Shunsuke Sakuya
Takurou Nakakuni
Tomoyuki Dan
Youji Ueda
Alex Organ
Christopher R. Sabat
Elizabeth Maxwell
Brandon Potter
Jad Saxton
Jason Douglas
John Swasey
Marcus D. Stimac
Phil Parsons

Music From:
Cornelius

Director of Photography:
Hiroshi Tanaka
Koji Tanaka

Editor:
Junichi Uematsu
Taeko Hamauzu
Yoshinori Murakami

Distributor:
Manga Entertainment