Ghost in the Shell Arise: Borders Parts 1 & 2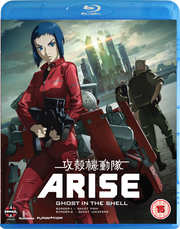 A prequel focusing on a time before Kusanagi and the Section 9 team you've come know and love.
Certificate: 15
Running Time: 114 mins
Retail Price: £29.99
Release Date: 2014
Content Type: Movie
Synopsis:
Ghost In The Shell returns with it's brand new incarnation, ARISE. A 4-part series. This release includes the first two Borders.

Border 1

In the year 2027, a year following the end of the non-nuclear World War IV, a bomb has gone off in Newport City, killing a major arms dealer who may have ties with the mysterious 501 Organization. Public Security official Daisuke Aramaki hires full-body cyber prosthesis user and hacker extraordinaire, Motoko Kusanagi, to investigate. On the case with her are "Sleepless Eye" Batou, who believes Kusanagi is a criminal, Niihama Prefecture Detective Togusa who is investigating a series of prostitute murders he believes are related to the incident, and Lieutenant Colonel Kurtz of the 501 Organization who also wishes to keep an eye on Kusanagi.

Border 2

Freed of her responsibilities with the 501 Organization, Motoko Kusanagi must now learn how to take orders from Aramaki. When unknown forces hack the Logicomas, Batou enlists the help of former army intelligence officer Ishikawa and former air artillery expert Borma. Kusanagi also seeks to enlist ace sniper Saito and undercover cop Paz into the new Public Security Section 9. The two groups rival each other in a case involving a man who receives false memories of a refugee transport operation.
Special Features:
Ghost in The Shell ARISE at Anime Expo 2013 featurette
Textless Opening
Logicoma Beat
Promotional Video
News Flash Type A
News Flash Type B
Theatrical Trailer
Border: 2 Teaser
U.S. Cast & Crew Commentary
Logicoma Court
Decode 501 File
Border:1 - Ghost Pain Cyberbrain I.G Talk Night Show
Border:1 - Ghost Pain Cyberbrain Cast Night Talk Show
Promotional Video
Commercial
Blu-ray & DVD Spots
Surface x Ghost in the Shell: Arise Another Mission
Pacific Racing Team x Ghost in the Shell Arise Promotional Video
Textless OP
Textless ED
US Trailer 6234

Video Tracks:
1.78:1 widescreen 1080p

Audio Tracks:
DTS-HD MA 5.1 Surround English
DTS-HD MA 5.1 Surround Japanese

Subtitle Tracks:
English

Directed By:
Kazuchika Kise

Written By:
Tow Ubukata
Masamune Shirow

Starring:
Kenichirou Matsuda
Maaya Sakamoto
Tarusuke Shingaki
Ikkyuu Juku
Kazuya Nakai
Miyuki Sawashiro
Shunsuke Sakuya
Takurou Nakakuni
Tomoyuki Dan
Youji Ueda
Alex Organ
Christopher R. Sabat
Elizabeth Maxwell
Brandon Potter
Jad Saxton
Jason Douglas
John Swasey
Marcus D. Stimac
Phil Parsons

Music From:
Cornelius

Director of Photography:
Hiroshi Tanaka
Koji Tanaka

Editor:
Junichi Uematsu
Taeko Hamauzu
Yoshinori Murakami

Distributor:
Manga Entertainment