The Special Relationship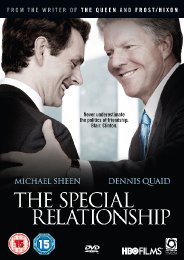 Never underestimate the politics of friendship.
Certificate: 15
Running Time: 88
Retail Price: £15.99
Release Date: 20/09/2010
Content Type: Movie
Synopsis:
Michael Sheen again reprises his role as Tony Blair in the third film in writer Peter Morgan's informal 'Blair trilogy' following The Deal and the Academy Award winning The Queen. The Special Relationship is a dramatic and compelling look at Tony Blair and Bill Clinton's overlapping years in office, their burgeoning political and personal friendship, and it's eventual unravelling in bitterness and mistrust. Beginning in 1992 when Bill was newly elected and Tony was still climbing the ranks of the Labour Party, we see Tony's visit to the US to take advice from Democratic political strategists, very much the junior partner. Flashing forward 4 years, the relationship is cemented with Bill hosting Tony at the White House and thus giving a massive boost to Tony's candidacy, and with Tony repaying the favour by remaining steadfast in support of a President increasingly engulfed by personal scandal. Fractures soon appear however over the issue of military intervention in Kosovo, and subsequently the Lewinsky affair.

Morgan skilfully lifts the veil on the personal impact of this on the two leaders as well as it's effect on their wives Hilary (Hope Davis, Synechdoche New York) and Cherie (Helen McCrory, again reprising her role), who by then had developed a friendship of their own. Climaxing with the American elections of 2000 and the emergence of the new Bush regime, the seeds of the subsequent course of the UK's relationship with the US are laid bare.

A captivating look into the meshing of personality and power, and how easily even the strongest bonds come unglued.
Special Features:
• Interviews
• Making Of
• Trailer

Video Tracks:
Anamorphic Widescreen 1.78:1

Audio Tracks:
Dolby Digital 5.1 Surround English
Dolby Digital 2.0 Stereo English

Subtitle Tracks:
English

Directed By:
Richard Loncraine

Written By:
Peter Morgan

Starring:
Michael Sheen
Dennis Quaid
Helen McCrory
Hope Davis
Lara Pulver
Adam Godley
Chris Wilson
Mark Bazeley

Casting By:
Nina Gold

Soundtrack By:
Alexandre Desplat

Director of Photography:
Barry Ackroyd

Costume Designer:
Consolata Boyle

Production Designer:
Maria Djurkovic

Producer:
Frank Doelger
Ann Wingate
Tracey Scoffield

Executive Producer:
Peter Morgan
Frank Marshall
Christine Langan
Kathleen Kennedy
Andy Harries

Distributor:
Optimum Home Entertainment