The Graduate: StudioCanal Collection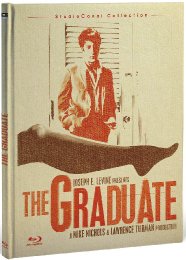 This is Benjamin. He's a little worried about his future.
Certificate: 15
Running Time: 105
Retail Price: £24.99
Release Date: 13/09/2010
Content Type: Movie
Synopsis:
Dustin Hoffman stars as Benjamin Braddock, as the eponymous graduate, opposite Katherine Ross and Anne Bancroft in this iconic 60s meditation on life, love, and the older woman.

During a party given by his parents, Benjamin Braddock is seduced by Mrs.Robinson. Benjamin is shy and in-experienced; Mrs. Robinson is the wife of one of his father's closest friends. They have an affair. But then, Benjamin falls in love with Mrs. Robinson's daughter, Elaine. Jealous and angry, Mrs. Robinson does everything to keep the young couple apart.

Featuring an unforgettable soundtrack by Simon & Garfunkel, The Graduate won a host of international awards including five BAFTAS, five Golden Globes and Mike Nichols an Oscar for Best Director.
Special Features:
SD, NEW or previously unreleased:
Audio Commentary with Prof. Koebner, film historian (new to UK)
About The Music (7'55) - analysis of music by Prof.Koebner & Helga La Motte-Haber, music professor & author (new to UK)
Analysis of the Seduction Scene (12'10) (new to UK)

SD, released before:
Trailer (1'48)
The Graduate at 25 (22'21)
Interview with Charles Webb (20'07)
The Graduate: Looking Back (12.56)

HD, released before:
The Music in the Film - 4 tracks: The Sound of Silence, April Come She Will, Scarborough Fair, Mrs. Robinson as they appear in the film

Booklet Essay by Marc Webb, writer / director
Marc Webb is the writer/director of 500 Days of Summer and the director of the forthcoming Spider-man reboot

Video Tracks:
1080p Widescreen 2.35:1

Audio Tracks:
DTS-HD Master Audio 2.0 Mono English
DTS-HD Master Audio 2.0 Mono French
DTS-HD Master Audio 2.0 Mono Spanish
DTS-HD Master Audio 2.0 Mono German

Subtitle Tracks:
English
German
French
Spanish
Swedish
Norweigan
Finnish
Dutch
Danish
Cantonese

Directed By:
Mike Nichols

Written By:
Calder Willingham
Buck Henry
Charles Webb

Starring:
Anne Bancroft
Dustin Hoffman
Katharine Ross
William Daniels
Murray Hamilton
Elizabeth Wilson
Buck Henry
Brian Avery
Walter Brooke
Norman Fell
Alice Ghostley
Marion Lorne

Music From:
Simon and Garfunkel

Director of Photography:
Robert Surtees

Editor:
Sam O'Steen

Costume Designer:
Patricia Zipprodt

Production Designer:
Richard Sylbert

Producer:
Lawrence Turman

Distributor:
Studio Canal
Optimum Home Entertainment