Liz Garbus's Love Marilyn documentary hits DVD this October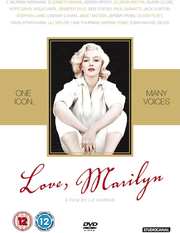 From a documentary about a legendary director, to one about a legendary actress, yes folks we leave you this weekend with the news that
Optimum Home Entertainment
are releasing
Love Marilyn
on DVD this 28th October.
Directed by Liz Garbus, this features Elizabeth Banks, Ellen Burstyn, Glenn Close, Viola Davis, Jennifer Ehle, Lindsay Lohan, Lili Taylor, Uma Thurman, Marisa Tomei, Evan Rachel Wood, Adrien Brody, Hope Davis, Ben Foster, Paul Giamatti, Janet McTeer, Oliver Platt and David Strathairn.
Presented in its original 1.77:1 aspect ratio with both 5.1 Dolby Digital and Dolby Stereo soundtracks, it will carry an unusually high 18 certificate, and a recommended retail price of £19.99.
Synopsis and trailer follow...
Marilyn Monroe invented her public persona at the expense of concealing a private side known only to her close confidants. Fifty years after her death, her creation still blazes brightly in our cultural imagination, while the creator continues to lurk in the shadows.
Drawing on never-before-seen personal papers, diaries and letters, Academy-award nominated director Liz Garbus worked with acclaimed actresses to evoke the multiple aspects of the real Marilyn, passion, ambition, soul-searching, power and fear, in an absorbing and astonishing portrait. These documents, brought to life in this film by some of our contemporary icons and stars, give us a new and revelatory understanding of Monroe, revealing her carefully guarded inner life.
Marilyn Monroe was a woman who did not believe true love was possible and yet sought it all her life. This is an actress who at the height of her fame abandoned Hollywood to study acting with Lee Strasberg, in a room of resentful unknowns, because she wanted to be taken seriously. In Marilyn Monroe, the magic of a once-in-a-generation talent, and the reality of so many women caught between strength and insecurity, love and career, are amazingly united.