Outrageous comedy Movie 43 comes to DVD and Blu-ray in June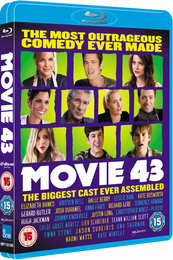 eOne
have announced the release of allegedly outrageous comedy
Movie 43
for 24th June on both DVD and Blu-ray.
This stars... er... everyone? Oh you want us to be more specific, okay. Here we go! This stars Peter Farrelly, Elizabeth Banks, Kristen Bell, Halle Berry, Leslie Bibb, Kate Bosworth, Gerard Butler, Bobby Cannavale, Kieran Culkin, Anna Faris, Chloë Grace Moretz, Chris Pratt, Christopher Mintz-Plasse, Emma Stone, Hugh Jackman, Jason Sudeikis, John Hodgman, Johnny Knoxville, Josh Duhamel, Justin Long, Kate Winslet, Liev Schreiber, Naomi Watts, Richard Gere, Seann William Scott, Stephen Merchant, Terrence Howard and Uma Thurman.
The DVD includes a deleted short and trailer as extras, whilst the Blu-ray contains the same plus an alternative cut labelled
The Pitch
. For once, both carry a recommended retail price of £17.99!
Synopsis and trailer follow...
Three daring teenagers journey into the darkest corners of the internet in search of the world's most banned film Movie 43 and encounter a series of gloriously offensive videos along the way, each becoming more and more uproarious as they tentatively venture into the unknown!
From 'The Catch' where Kate Winslet stars as a woman on a blind date with the ever-so charming Hugh Jackman, who is by all description perfect. He's talented, immensely handsome, successful in his career and has shown a lot of balls for a man on a first date. Quite literally so!
To 'Veronica', where Emma Stone and Kieran Culkin star as former lovers who's final farewell swiftly turns into a sexual discussion and humorous lament over their relationship with topics including HPV and fingers up the bum, the teenagers can only dare to imagine what the mystical Movie 43 will behold and what the consequences of watching it will be!