Fernando Meirelles and Peter Morgan drama 360 comes to DVD and Blu-ray in the New Year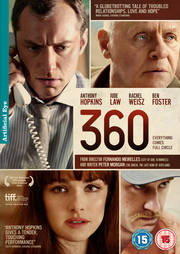 If you are a fan of director Fernando Meirelles, then you may be somewhat thrilled to hear that his latest work
360
is getting a release from
Artificial Eye
on 5th January 2013.
Written by Peter Morgan, who certainly has a good pedigree, it stars Jude Law, Anthony Hopkins, Rachel Weisz, Ben Foster, Lucia Siposová, Gabriela Marcinkova and Johannes Krisch.
With a runtime of 115 minutes, extras will include an interview with the director and behind-the-scenes featurette. The recommended retail price will be £15.99 for the DVD version and £19.99 for the Blu-ray.
Synopsis and trailer follow...
360 is a kaleidoscope of interconnected love and relationships linking characters from different cities and countries in a vivid, suspenseful and deeply moving tale of romantic life in the 21st century. Starting in Vienna, the film beautifully weaves through Paris, London, Bratislava, Rio, Denver and Phoenix into a single, mesmerizing narrative.