Frisky Dingo: Season One
Introduction
One of the many shows in the [adult swim] stable and one that I'd previously never come across, and just like everything they do, it's difficult to describe in a short and coherent manner. Created by the people responsible for
Sealab 2021
,
Frisky Dingo
follows the fortunes of an inept super-villain and an inept superhero.
Killface is a giant white 'being' with clawed feet, an extraordinary physique but seemingly no genitals. Having been forced to move from Arizona because of something his son did, he is bent on global destruction, building the Annihilatrix: a contraption that will propel the earth into the sun. Constantly frustrated, he's spent billions on the Annihilatrix and now can't afford to publicise it plus his odd teenage son Simon is acting up again.
Meanwhile, Xander Crews, who fights crime under the moniker Awesome X and has successfully defeated every villain, is a playboy millionaire who is persistently being told to grow up and start behaving like a businessman by Stan, the head of the board of directors. To try and prove he can be a businessman he decides to start a line in Awesome X action toys but Stan points out that there's no market if there is no villain. After a failed experiment to create a lobster man nemesis, Crews hears about Killface and sets about getting his (unwilling) permission for likeness rights.
The relationship between Killface and Awesome X forms the backbone of the show as they shift between arch enemies and unlikely allies as Crews needs a nemesis to justify the expense to keep Awesome X going.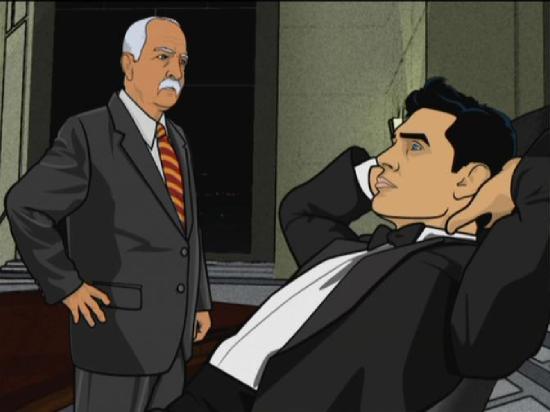 Video
The animation is simple but effective with clean lines on the characters and no sigh of an NTSC to PAL transfer. There are numerous characters, all very well designed and the further through the show you get, the more complex the situations and animation becomes. With super intelligent radioactive ants, an increasingly strange human-lobster hybrid and much more of the Xtacles, the visuals never get samey.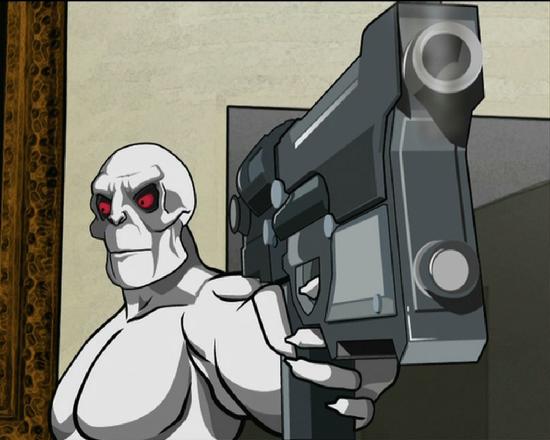 Audio
A clear stereo soundtrack with excellent voice acting from a range of people including a whole host of
Sealab 2021
alumni. There are very good English HoH subtitles available.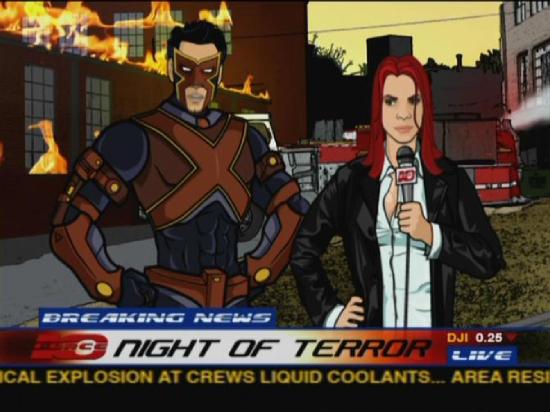 Conclusion
Frisky Dingo
is a relatively short series with only thirteen eleven minute episodes but, that said, there isn't enough material to justify any more but what there is works perfectly within this timescale. Each episode has plenty going on but there isn't a narrative arc - the series has one, but the episodes don't.
There are plenty of moments where you find yourself laughing and then wonder why as the humour can be random and catches you off guard. The situations range from the mundane, such as Simon repeatedly breaking cereal bowls, to unbelievable events like Crews' girlfriend, TV reporter Grace Ryan, being taken over by the previously mentioned radioactive ants but the majority of the humour doesn't come from the situations, rather the many bizarre and surreal throwaway comments. The strange twists on the everyday are amusing, with all of Crews' board of directors looking the same and communicating in 'harumpfs' and Simon's incoherent mumbling obviously carrying some quite disturbing messages. The humour is best illustrated in the episode 'Emergency Room' where all members of the main cast (bar Xander Crews) are in the ER with some horrendous though funny injuries with Killface worrying about his insurance and the doctor showing Grace a 'computer generated' drawing of her future as queen of the ants.
There are some neat parodies of Bruce Wayne and Tony Stark in Xander Crews, with the playboy billionaire living a secret life to which his girlfriend is not privy and playing the 'murdered parents' card whenever he's told to grow up.
I really enjoyed this and recommend it to anyone, especially a fan of [adult swim]'s output who hasn't come across it yet. It's a real shame that there are no extra features as it would have been great to hear from creators Matt Thompson and Adam Reed.