Strip Nude For Your Killer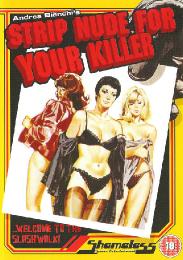 ...Welcome to the Slashwalk!
Certificate: 18
Running Time: 94
Retail Price: £12.99
Release Date: 27/10/2008
Content Type: Movie
Synopsis:
Disappointed by films that just don't live up to their promise? Well baby this one does what it says on the box so strap yourself in for sleazy, nudity-filled gore a go-go giallo fun!

The death of a fashion model leads to a revenge-driven trail of death that soon has the modelling agency she worked for in a frenzy of panic as the clothes get slashed and the sluts get slayed. In the middle of this kink-fest is the dependably beautiful Edwige Fenech doing all she can to avoid being the next to shed her clothes for a killer who likes their victims easy on the eye and stripped for the kill.

From the mind of 'Burial Ground' director Andrea Bianchi comes a gloriously trashy movie riddled with unnecessary but very welcome top-drawer nudity and awash with neon red blood but most importantly a well-made film that delivers wave after wave of guilty exploitation pleasure.
Special Features:
Theatrical Trailer
Trailer Reel

Video Tracks:
Anamorphic widescreen 2.35:1

Audio Tracks:
Dolby Digital 2.0 mono English

Directed By:
Andrea Bianchi

Written By:
Andrea Bianchi
Massimo Felisatti

Starring:
Edwige Fenech
Nino Castelnuovo
Femi Benussi
Solvi Stubing
Amanda
Franco Diogene
Lucio Como
Erna Schürer
Gianni Airò
Silvana Depreto
Achille Grioni
Giuseppa Meschella
Filippo La Neve
Claudio Pellegrini
Wainer Verri
Rodolfo Zola

Music From:
Berto Pisano

Director of Photography:
Franco Delli Colli

Editor:
Francesco Bertuccioli

Production Designer:
Sergio Palmieri

Distributor:
Shameless Screen Entertainment