Human Centipede II granted Certificate 18 in the UK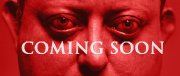 THE HUMAN CENTIPEDE II (FULL SEQUENCE)
GRANTED 18 CERTIFICATE
Eureka Entertainment is pleased to announce the forthcoming release of the controversial horror film
The Human Centipede II (Full Sequence).
Ian Sadler, Sales Director for Eureka Entertainment, Bounty Films' UK distributor said:
"We are really pleased that after nearly 4 months of detailed discussion and debate, we have been able to reach an agreement with the BBFC and to produce a very viable cut of the film which will both excite and challenge its fans. Naturally we have a slight disappointment that we have had to make cuts, but we feel that the storyline has not been compromised and the level of horror has been sustained."
Further details of plans for the UK theatrical and DVD release will be announced early next week.