Bounty Films and Eureka to appeal UK ban of The Human Centipede 2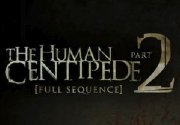 Press Release - The Human Centipede 2 (Full Sequence)
In the light of the decision of the BBFC (British Board of Film Classification) not to grant
The Human Centipede 2 (Full Sequence)
a classification certificate, Bounty Films (Australia), in conjunction with its UK distribution partner Eureka Entertainment Ltd. intends to appeal the decision.
Bounty MD Tony Romeo said:
"In Australia the film has been granted a certificate with no cuts. We are extremely surprised therefore by the BBFC's decision."
At this time we do not wish to comment further.