Dellamorte Dellamore - The Cemetery Man coming to DVD in February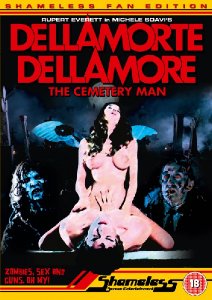 COURAGEOUS
 From
Michele Soavi
, director of "The Church" and "The Sect", comes
Dellamorte Dellamore
(aka
The Cemetery Man
), a surreal blend of George Romero gore, Dario Argento style and 'Monty Python' irreverence, and arguably the weirdest zombie movie ever made. Based on the novel by
Tiziano Sclavi
, creator of the cult comic book hero "Dylan Dog", the film stars
Rupert Everett
(Stardust; St. Trinian's; Shrek),
Anna Falchi
(The Princess And The Pauper) and
Francois Hadji-Lazaro
(Brotherhood Of The Wolf; The City Of Lost Children).
Meet Francesco Dellamorte (Rupert Everett), gravedigger and guardian of the mythical Buffalora Cemetery where the dead just don't stay dead. Seven days after burial, the fresh cadavers claw their way out of their coffins looking for flesh to eat. And it's Francesco's job to dispatch these 'Returners' before they escape into the local community.
But his quest to stop the dead from invading the world of the living falters when he falls in love with a beautiful and enigmatic widow visiting her husband's crypt. For when he kills her by mistake, and is cursed to see her face for eternity, the difference between being alive and dead becomes chillingly confused in his shocked and romantically damaged brain.
Hip, offbeat, gory, funny and intensely erotic,
Dellamorte Dellamore
is a totally unique horror movie that demands to be seen.
Dellamorte Dellamore - The Cemetery Man
(cert. 18) will be released on
DVD
(£15.99) by
Shameless Screen Entertainment
on
27th February 2012
. Special Features include: audio commentary by director Michele Soavi and writer Gianni Romoli; exclusive booklet of Alan Jones' personal on-set memoir; trailers; photo gallery; English and Italian (with English subtitles) audio options.