Dario Argento's classic horror Tenebrae comes to Blu-ray Steelbook in December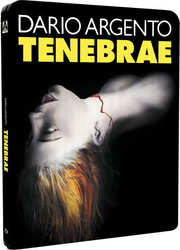 Collectors rejoice for horror legend Dario Argento's classic
Tenebrae
is coming to Blu-ray as a limited edition steelbook on 16th December, just in time for a blood filled Christmas!
The
Arrow Films
release stars Anthony Franciosa, Christian Borromeo, Mirella D'Angelo, Daria Nicolodi, Veronica Lario, Ania Pieroni, Carola Stagnaro, John Steiner and Giuliano Gemma.
Presented in its original 1.85:1 aspect ratio with PCM 2.0 Mono soundtrack in English and Italian with English subtitles, this newly remastered 1080p transfer is joined by two commentary tracks, one with authors and critics Kim Newman and Alan Jones, and the other with Argento expert Thomas Rostock.
Other extras will include an introduction by star Daria Nicolodi, interview with the director,
Screaming Queen! Daria Nicolodi
featurette,
A Composition for Carnage: Composer Claudio Simonetti on Tenebrae
featurette, Goblin performing
Tenebrae
and
Phenomena
live from the Glasgow Arches music clips, brand new interview with Maitland McDonagh, author of
Broken Mirrors/Broken Minds: The Dark Dreams of Dario Argento
, original trailer and exclusive collector's booklet featuring writing on the film by Alan Jones, Luciano Tovoli and Peter Strickland, illustrated with original posters and lobby cards.
And the recommended retail price for all this red liquid filled loveliness? A mere £24.99.
Synopsis and trailer follow...
A razor-wielding psycho is stalking the horror writer Peter Neal, in Rome to promote his latest work, Tenebre. But the author isn't the obsessive killer's only target, the beautiful women who surround him are doomed as one by one, they fall victim to the murderer's slashing blade.
Will fiction and reality blur as fear and madness take hold? Watch in terror as by turns the cast fall victim to the sadistic imagination of Dario Argento, Italy's master of horror.